Corbett honoured to meet Queen
May 19, 2011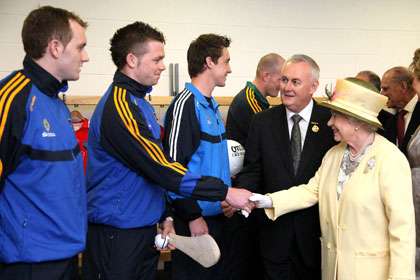 Former GAA President Christy Cooney with Her Majesty Queen Elizabeth II meets with hurlers Lar Corbett and Padraic Maher from Tipperary, footballers Kevin Nolan from Dublin and Joe Sheridan from Meath at Croke Park in 2011.
Hurler of the Year Lar Corbett has spoken about his meeting with Queen Elizabeth at Croke Park yesterday.
Corbett and his Thurles Sarsfields clubmate Padraic Maher received an invitation a fortnight ago to meet the monarch and the All-Star forward said he was "delighted to be asked".
The Tipperary ace said: "It was great to get the opportunity - it could have been anyone but we got a phone call from the GPA.
"She asked me and Paudie about the hurley we had in our hands President McAleese was explaining about shinty and the Queen asked if we had been playing hurling from a young age and about Croke Park.
"Christy Cooney told her we are voluntary players and don't get paid. She thought that was interesting."
Corbett admitted he was aware of the historical significance of the Queen's visit.
He added: "An awful lot of sadness surrounded that day back in 1920 and I was honoured to represent the GPA at Croke Park.
"It's the Queen's first time in Ireland. There has been so much negativity around the place but something like this is positive.
"It's good to build relations with England. It was great to be there, to shake hands with her. I wasn't nervous. It was one visit to Croke Park where we couldn't lose - when we're up here we're usually playing in matches, where we can get beaten. There was no pressure or tension.
"She's a human being as well and has been around long enough to take things like that in her stride."
For more information on Tipperary GAA go to our Facebook page or follow us on Twitter
Most Read Stories