Fixtures confirmed for Round 1 of Leinster minor football and hurling championships
April 11, 2019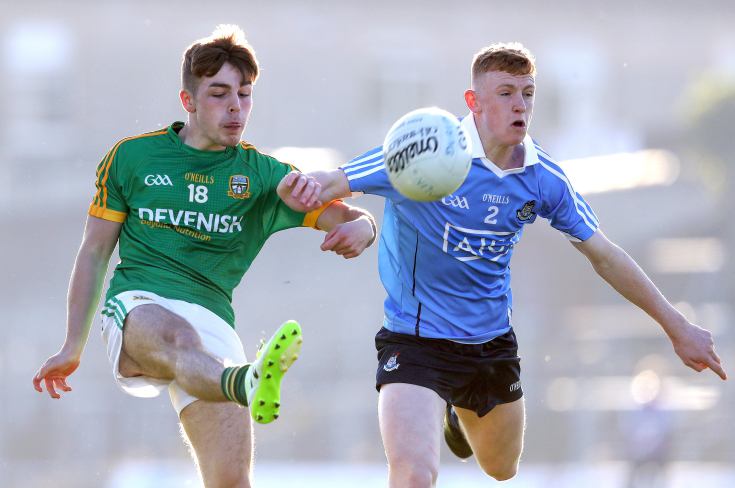 Meath's Brian O'Hanlon with Conor Hennessy of Dublin during the Leinster MFC game at Pairc Tailteann.
The times, dates and venues for Round 1 of the 2019 Leinster minor football and hurling championships have been confirmed by Croke Park today.
Meath will start their provincial football championship against Dublin in Parnell Park on Tuesday fortnight, April 23rd (throw-in 7.30pm), with other five openers down for decision on the same evening.
The Leinster MHC commences on April 27th, with 2018 runners-up Kilkenny hosting Dublin at Nowlan Park at 4pm.
The full list of Round 1 fixtures can been seen below:
Leinster MFC Round 1
Tuesday, April 23rd
Longford v Westmeath at Pearse Park (7.00pm)
Wexford v Offaly at Innovate Wexford Park (7.00pm)
Kilkenny v Louth at Nowlan Park (7.00pm)
Kildare v Wicklow at Newbridge (7.00pm)
Dublin v Meath at Parnell Park (7.30pm)
Carlow v Laois at Carlow IT (7.30pm)
Leinster MHC Round 1
Saturday, April 27th
Kilkenny v Dublin at Nowlan Park (4.00pm)
Offaly v Wexford at O'Connor Park (4.00pm)
Laois v Westmeath at O'Moore Park (2.00pm)
Antrim v Kildare at NGDC, Abbotstown (3.00pm)
Carlow v Meath at IT Carlow (2.00pm)
Most Read Stories