U20 county teams could participate in new football league competition
November 27, 2018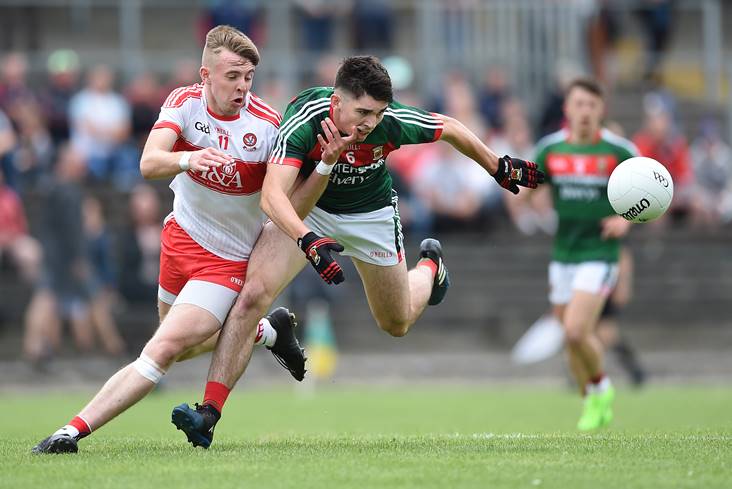 Mayo's Cathal Horan with Oisin McWilliams of Derry during the All-Ireland U20 semi-final in Carrick-on-Shannon
Central Council is proposing that a new development football league should be brought in at county U20 level ahead of the provincial championships.
The proposal, which is for 2019, would see a league competition played in May and early June with the provincial championships then to take place between the middle of June and the end of July.
As a result each county would be guaranteed at least four games in the league plus one championship game and challenge games would not be permitted. Team would only be allowed to return to training from March 1st.
The U20 provincial championships would also be run on a knockout basis.
Central Council is also considering putting a motion to Congress which would allow players become eligible for the U20 championship once their county exits the senior championship. Currently a player cannot participate in both competitions.
Possible U20 Calendar for 2019:
Wed, May 29th – League Series: Game Day 1
Sat June 1st– League Series: Game Day 2
Wed June 5th – League Series: Game Day 3
Sat June 8th– League Series: Game Day 4 or play-offs
Wed June 12th – Game Day 5 (for 5 team group only)
Sat June 16th – League Series: FINALS/SHIELD FINALS
Wed June 19 – Sun July 21: Window for Provincial Championships
All Ireland Semi finals - July 27th/28th
All Ireland Final – August 3/4th
Most Read Stories