What they said … the hurling weekend in quotes
February 26, 2018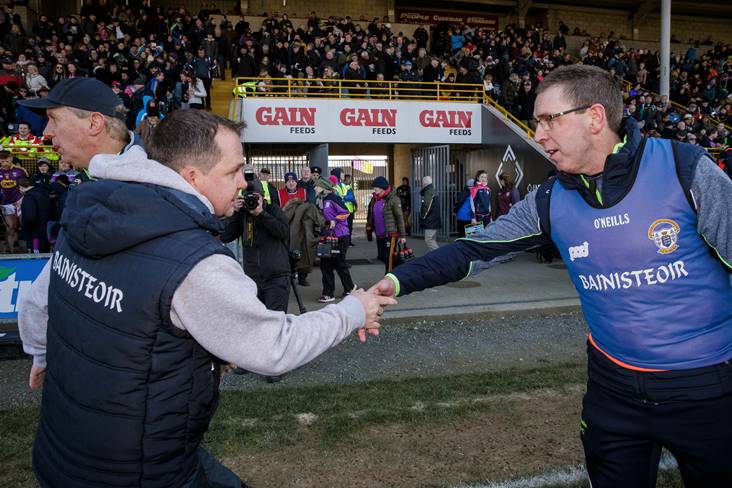 Wexford manager Davy Fitzgerald shakes hands with Clare joint-manager Gerry O'Connor after their side's Allianz HL clash at Innovate Wexford Park.
©INPHO/Ryan Byrne.
"I found it hard. Listen I had a job to do today, but I'm a Clare man. All I ever wanted to do was play for Clare. All I ever wanted to do was manage Clare. And it's difficult… But I think the lads knew that. All week I tried not to dwell on the Clare thing and just focus on Wexford."
Davy Fitzgerald and Wexford leapfrogged his native Clare to take over in pole position in the Division 1A table.
"We wouldn't like that to come into it. You have to be able to perform every week and we expected them to perform today in a different environment, different challenge and they probably didn't to that to the level we expected."
With their place in the knock-out stages already secured, did the Banner County take their eye off the ball? Joint-manager Donal Moloney doesn't think that was the case.
"We've been competitive in the league. We were definitely being targeted for relegation by most people, I suppose, after the first two games - and that still can happen. We've put ourselves in a position where we can do something about it ourselves."
Kilkenny's league destiny is in their own hands and Brian Cody's men will take on table toppers Wexford next. 
"We were very determined that we were going to use the panel and obviously we made a couple of decisions about some of the more experienced players that they had played plenty and we didn't need to see them again today."
Michael Ryan resisted the temptation to throw experienced duo Padraic Maher and Noel McGrath into the action at Nowlan Park.
"I don't think we're the worst team in Ireland. We might go down but we're building towards the summer like all of the other teams and that's not just language to defuse a possible relegation battle and how you feel."
Waterford secured their first win at Cork's expense but Derek McGrath is looking at the bigger picture.
"We need to spread the weight on the forwards. We saw that in Clare and we saw that in Wexford as well. We've a mountain of work to do. Every game is a big game and you're just being found out in 1A and bits and pieces."
Cork's over-reliance on Patrick Horgan is a source of concern for John Meyler.
"They've been burning it up in fairness to them, putting up big scores so it's going to be a big challenge for us."
After overcoming Dublin, Micheal Donoghue and Galway will take on Limerick in a top-of-the-table clash next weekend.
"It was a defeat but it was worlds apart from our performance last week."
Pat Gilroy was encouraged by the gutsy display produced by his troops against the All-Ireland champions.
"We looked like we were going to push on and win it well, but Laois came back at us. We could have closed them out, but we didn't and that is something we will have to work on. Overall, a good win."
Kevin Martin guided Offaly to a five point win over neighbours Laois.
"We are disappointed with the way we played, but you have to give credit Offaly. They looked hungrier than us and battled a lot harder that we did."
The O'Moore County weren't at their best, admitted Eamonn Kelly.
"I have to compliment the three main managers in Clare, Limerick and Tipp, they were very helpful and very understanding in the way they looked after the players."
Fitzgibbon Cup winning UL manager Gary Kirby highlighted the co-operation he received from his inter-county counterparts.
Most Read Stories