FL top scorers: Laois sharpshooter maintains top spot
February 21, 2018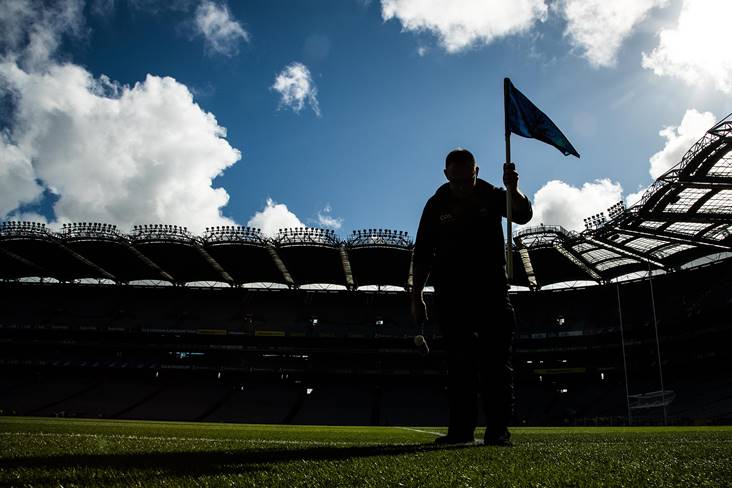 Laois' Gary Walsh has opened up a four-point lead at the top of the 2018 Allianz Football League scoring charts heading into the fourth round.
©INPHO/Tommy Dickson.
Laois sharpshooter Gary Walsh maintains top spot in the 2018 Allianz Football League scoring charts.
Walsh added 0-10 to his score count as the O'Moore County secured their third successive victory in Division 4 against Waterford. Paddy McBrearty remains his nearest challenger after his magnificent 0-7 haul in Donegal's defeat to Dublin.
Top three: Gary Walsh (Laois), Paddy McBrearty (Donegal) and Conor Sweeney (Tipperary).
Division 2 leader Conor Sweeney holds third place and is closely followed by Armagh's Ethan Rafferty, last year's overall winner John Heslin and Paul Broderick of Carlow who are all on level points.
With three rounds now complete, Carlow captain John Murphy is the leading goalscorer having netted twice in the win over Leitrim.
Overall league top scorers:
Gary Walsh, Laois 2-24 (30)
Paddy McBrearty, Donegal 0-26 (26)
Conor Sweeney, Tipperary 2-14 (20)
Ethan Rafferty, Armagh 2-13 (19)
John Heslin, Westmeath 1-16 (19)
Paul Broderick, Carlow 1-16 (19)
Liam Gavaghan, London 2-12 (18)
Mark Collins, Cork 1-13 (16)
Rory Grugan, Armagh 1-13 (16)
Sean O'Shea, Kerry 0-16 (16)
Liam McGrath, Tipperary 2-8 (14)
Diarmuid Murtagh, Roscommon 1-11 (14)
Kevin Feely, Kildare 0-14 (14)
Paddy McBride, Antrim 0-14 (14)
Keith Beirne, Leitrim 0-14 (14)
Jason Curry, Waterford 0-14 (14)
Division 1
Paddy McBrearty, Donegal 0-26 (26)
Sean O'Shea, Kerry 0-16 (16)
Kevin Feely, Kildare 0-14 (14)
Lee Brennan, Tyrone 1-9 (12)
Shane Walsh, Galway 0-12 (12)
Damien Comer, Galway 1-7 (10)
Colm Basquel, Dublin 0-10 (10)
Dean Rock, Dublin 1-6 (9)
Brian Fenton, Dublin 1-6 (9)
Ciaran Kilkenny, Dublin 1-6 (9)
Paul Geaney, Kerry 1-6 (9)
Jack McCarron, Monaghan 0-9 (9)
Division 2
Conor Sweeney, Tipperary 2-14 (20)
Mark Collins, Cork 1-13 (16)
Liam McGrath, Tipperary 2-8 (14)
Diarmuid Murtagh, Roscommon 1-11 (14)
Colm O'Neill, Cork 1-10 (13)
Padraig McKeever, Meath 0-13 (13)
Caoimhin O'Reilly, Cavan 1-8 (11)
Ryan Burns, Louth 0-11 (11)
Bryan Magee, Cavan 1-7 (10)
William Woods, Louth 0-9 (9)
Michael Quinlivan, Tipperary 2-2 (8)
Sean White, Cork 1-5 (8)
Eamon Wallace, Meath 1-5 (8)
Division 3
Ethan Rafferty, Armagh 2-13 (19)
John Heslin, Westmeath 1-16 (19)
Rory Grugan, Armagh 1-13 (16)
Emmett Bradley, Derry 1-8 (11)
Robbie Smyth, Longford 0-11 (11)
Enda Lynn, Derry 2-4 (10)
Seamus Quigley, Fermanagh 2-4 (10)
Callum McCormack, Westmeath 1-7 (10)
Adrian Marren, Sligo 0-10 (10)
Stephen Coen, Sligo 0-10 (10)
Nigel Dunne, Offaly 0-10 (10)
Conall Jones, Fermanagh 2-3 (9)
Division 4
Gary Walsh, Laois 2-24 (30)
Paul Broderick, Carlow 1-16 (19)
Liam Gavaghan, London 2-12 (18)
Paddy McBride, Antrim 0-14 (14)
Keith Beirne, Leitrim 0-14 (14)
Jason Curry, Waterford 0-14 (14)
Seanie Furlong, Wicklow 0-13 (13)
Ryan Murray, Antrim 1-9 (12)
Jamie Lee, Limerick 0-12 (12)
John Murphy, Carlow 3-0 (9)
Darragh Rooney, Leitrim 2-2 (8)
JJ Hutchinson, Waterford 1-5 (8)
Goalscoring charts:
John Murphy (Carlow) 3
Diarmuid O'Connor (Mayo) 2
Conor Sweeney (Tipperary) 2
Liam McGrath (Tipperary) 2
Michael Quinlivan (Tipperary) 2
Ciaran Brady (Cavan) 2
Ethan Rafferty (Armagh) 2
Conall Jones (Fermanagh) 2
Seamus Quigley (Fermanagh) 2
Enda Lynn (Derry) 2
Liam Gavaghan (London) 2
Gary Walsh (Laois) 2
Josh Ryan (Limerick) 2
Darragh Rooney (Leitrim) 2
Highest individual scores from each round:
Round 1 
Liam McGrath (Tipperary v Cork) 2-5
Round 2
Gary Walsh (Laois v Leitrim) 1-8
Round 3
Gary Walsh (Laois v Waterford) 0-10
Most Read Stories