Enright's family targeted after loss to Mayo
July 18, 2018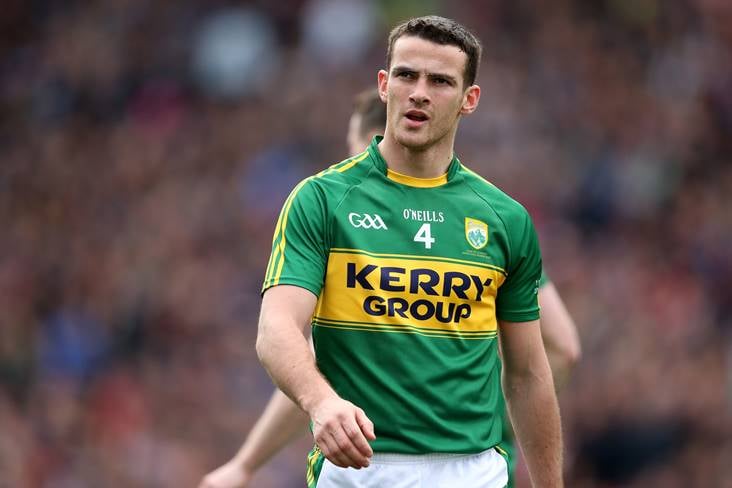 Shane Enright of Kerry ©INPHO/Cathal Noonan
by Daragh Small
Kerry All-Star defender Shane Enright says his mother was the target of some criticism after last year's All-Ireland semi-final defeat to Mayo in a difficult winter for his native county.
Kerry will look to bounce back from last weekend's 1-13 to 1-10 defeat at the hands of Galway when they clash with Monaghan in Round 2 of Group 1 in the Super 8s on Sunday.
The 30-year-old Tarbert former All-Ireland winning defender is in a race against time to be fit for that game in Clones after he ruptured ankle ligaments during the NFL. 
But Enright did play and wore the No 2 jersey for both semi-final games against Mayo last August in Croke Park. Kerry eventually succumbed to a 2-16 to 0-17 replay defeat and Enright's mother, Stella, felt the brunt of the Kerry public. 
"Personally it was tough. I didn't perform in either of the games. I was marking Andy Moran and he won Player of the Year. He was playing very well at the time. I tried to keep the head down and stay away from it," said Enright.
"But down in Kerry there is always going to be flack if you are not playing well and they are expecting All-Irelands every year. That's the pressure that comes with it and that's the nature of it. We had just to put the head down, knuckle hard and keep at it.
"You want to come back to try and put things right more than anything. The worst thing about losing at that stage of the championship is it's another four or five months before you can try to put things right and play again. Just knuckle down and try to stay away from the media and stay away from the negative influences.
"But my mother at one stage was down at Listowel Races and she got a bit of criticism about me, which is a bit over the top. I wouldn't mind them saying it to myself, but when you are getting stuff like that.
"That's the nature of the beast. That comes with it. It was just something over the goal the second day that Andy Moran got. She didn't know them very well anyway.
"She wasn't too upset now. She kinda takes it in her stride as well. But it's not a nice thing to happen."
If Enright does feature this weekend it's likely he will renew rivalries with Monaghan forward Conor McManus. 
When the sides met in the league Enright also had the unenviable task of silencing the twice All-Star. McManus scored 1-3 that day in a 1-13 to 0-14 win for Monaghan at Inniskeen.
"He is unbelievable kicker of the football. You saw that point he kicked from the sideline recently. Other players you wouldn't be telling them to shoot from there, but even if he has got the ball 45 yards from goal you got to be as tight as if he is 20 yards from goal because he will kick scores from anywhere so he is very dangerous," said Enright.
"If they get good enough ball it's going to be hard to mark at times. You try and put them on their weak side, but with a player like that, Conor McManus, he is going to have two good legs to kick with. It's not easy if he gets a yard. All you can do is put as much pressure on him possibly. 
"The one thing with us that we have worked hard on between league and championship was tackling. It's going well so far, we're not giving away many frees. We're tackling hard but fair. The big thing is not to be fouling. To make them earn their scores by kicking them.
"There is no point giving away easy frees especially to Conor McManus."
Most Read Stories