HL top scorers: Chasing pack close the gap on Crowley
February 22, 2018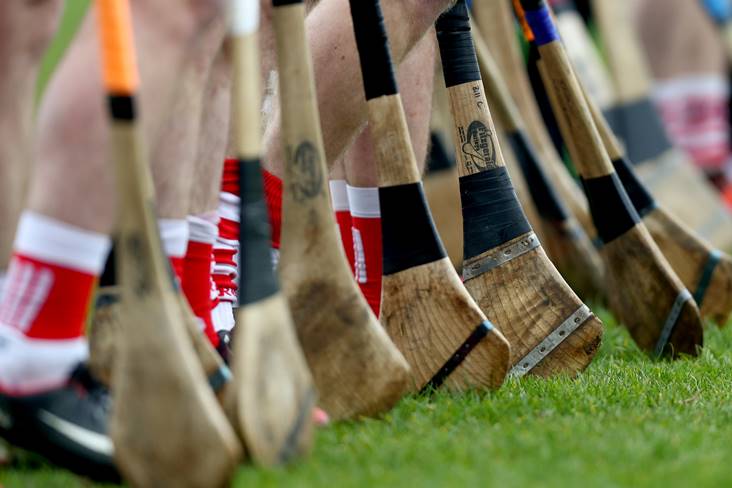 Having put up 2-14 in the opening round, Ronan Crowley has led from the off in the Allianz Hurling League scoring charts.
©INPHO/James Crombie.
Despite adding 0-11 to his overall tally last weekend, Ronan Crowley's advantage at the summit of the Allianz Hurling League scoring charts has been cut.
The Lancashire star is five clear on 2-38 after three rounds with a closely bunched chasing pack breathing down his neck. Laois captain Ross King is next best following his 0-16 haul in the win over Antrim.
Tipperary's Jason Forde scores a goal against Wexford. ©INPHO/Ken Sutton.
Jack Regan (Meath) and Damien Casey (Tyrone) are joint third while Division 1 leader Jason Forde shares fourth spot with Neil McManus.
Forde's brace for Tipperary against Wexford sees him lead the way in the goalscoring charts along with Danny Toner (Down) and Ian Dwyer (Warwickshire).
Overall league top scorers:
Ronan Crowley, Lancashire 2-38 (44)
Ross King, Laois 0-39 (39)
Jack Regan, Meath 2-32 (38)
Damien Casey, Tyrone 2-32 (38)
Jason Forde, Tipperary 3-28 (37)
Neil McManus, Antrim 0-37 (37)
Daniel Glynn, Roscommon 0-35 (35)
Aaron Gillane, Limerick 2-28 (34)
Andy O'Brien, Wicklow 2-28 (34)
Niall Arthur, Louth 2-20 (26)
Fergal Rafter, Monaghan 0-26 (26)
Paul Sheehan, Down 1-21 (24)
Lee Chin, Wexford 0-24 (24)
Richard Murphy, London 0-24 (24)
Division 1A
Jason Forde, Tipperary 3-28 (37)
Lee Chin, Wexford 0-24 (24)
David Reidy, Clare 2-14 (20)
Pauric Mahony, Waterford 0-20 (20)
TJ Reid, Kilkenny 1-14 (17)
Peter Duggan, Clare 0-17 (17)
Conor Lehane, Cork 1-13 (16)
Patrick Horgan, Cork 0-16 (16)
Alan Murphy, Kilkenny 0-15 (15)
David Dunne, Wexford 2-3 (9)
Division 1B
Ross King, Laois 0-39 (39)
Neil McManus, Antrim 0-37 (37)
Aaron Gillane, Limerick 2-28 (34)
Donal Burke, Dublin 0-19 (19)
Conor Cooney, Galway 0-16 (16)
Joseph Cooney, Galway 2-7 (13)
Damien Egan, Offaly 0-11 (11)
Shane Dooley, Offaly 1-7 (10)
Gearoid Hegarty, Limerick 1-5 (8)
Tom Morrissey, Limerick 0-8 (8)
David Reidy, Limerick 0-8 (8)
Paul Ryan, Dublin 0-8 (8)
Division 2A
Jack Regan, Meath 2-32 (38)
Richard Murphy, London 0-24 (24)
James Burke, Kildare 0-22 (22)
Shane Nolan, Kerry 0-17 (17)
Allan Devine, Westmeath 0-16 (16)
Chris Nolan, Carlow 2-9 (15)
Denis Murphy, Carlow 0-15 (15)
Martin Kavanagh, Carlow 1-11 (14)
Padraig Boyle, Kerry 1-8 (11)
Niall Mitchell, Westmeath 1-7 (10)
Division 2B
Andy O'Brien, Wicklow 2-28 (34)
Paul Sheehan, Down 1-21 (24)
Alan Grant, Derry 1-20 (23)
Lee Henderson, Donegal 0-22 (22)
Connor McAnallen, Armagh 0-18 (18)
Danny Toner, Down 3-6 (15)
Keith Higgins, Mayo 2-9 (15)
Kenny Feeney, Mayo 1-11 (14)
Shane Boland, Mayo 0-12 (12)
Davin Flynn, Donegal 2-4 (10)
Division 3A
Damien Casey, Tyrone 2-32 (38)
Daniel Glynn, Roscommon 0-35 (35)
Niall Arthur, Louth 2-20 (26)
Fergal Rafter, Monaghan 0-26 (26)
Cathal Mullane, Longford 1-20 (23)
Niall McKenna, Warwickshire 0-19 (19)
Ian Dwyer, Warwickshire 3-1 (10)
Eamon Flanagan, Roscommon 2-4 (10)
Aidan Kelly, Tyrone 1-5 (8)
Division 3B
Ronan Crowley, Lancashire 2-38 (44)
Clement Cunniffe, Leitrim 0-19 (19)
Paul Sheridan, Cavan 0-10 (10)
John Duffy, Fermanagh 1-6 (9)
Ruairi Brennan, Sligo 0-9 (9)
Ben Murray, Leitrim 1-5 (8)
Martin Hawley, Lancashire 2-1 (7)
Zac Moradi, Leitrim 1-4 (7)
Kevin Banks, Sligo 1-3 (6)
Goalscoring charts:
Jason Forde (Tipperary) 3
Danny Toner (Down) 3
Ian Dwyer (Warwickshire) 3
David Dunne (Wexford) 2
David Reidy (Clare) 2
Aaron Gillane (Limerick) 2
Conor Whelan (Galway) 2
Joseph Cooney (Galway) 2
Chris Nolan (Carlow) 2
Jack Regan (Meath) 2
Davin Flynn (Donegal) 2
Eoghan Sands (Down) 2
Andy O'Brien (Wicklow) 2
Anto Byrne (Wicklow) 2
Keith Higgins (Mayo) 2
Damien Casey (Tyrone) 2
Eamon Flanagan (Roscommon) 2
Niall Arthur (Louth) 2
Ronan Crowley (Lancashire) 2
Martin Hawley (Lancashire) 2
Highest individual scores from each round:
Round 1 
Ronan Crowley (Lancashire v Fermanagh) 2-14 
Round 2
Neil McManus (Antrim v Dublin) 0-16
Round 3
Damien Casey (Tyrone v Monaghan) 2-11
Most Read Stories