O'Byrne Cup round-up: winning starts for Westmeath, Offaly and Longford
December 30, 2017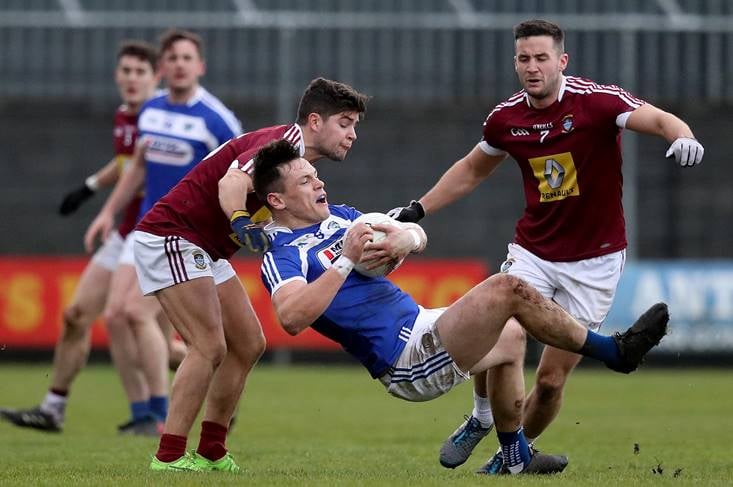 Laois midfielder John O'Loughlin with John Egan of Westmeath
Westmeath held off a spirited comeback from Laois this afternoon to win out by 1-13 to 1-12 in Mullingar and ensure Colin Kelly's reign in the Lake County got off to a winning start.
James Dolan's goal before half-time saw the home side more than comfortable at the break with a 1-7 to 0-4 advantage and they'd looked to have done to enough to weather a storm from the O'Moore men after the interval.
Gary Walsh's free and a pair of points from Brian Glynn kept the visitors right in contention and on the hour mark they'd really have the heat on Kelly's men with a well-taken goal from Paul Kingston.
A pair of Walsh frees had the margin at two late on but a composed Luke Loughlin steadied things for Westmeath. There'd be another late rally from John Sugrue's charges but the men in maroon held out for their first win of the new season.
In Tullamore, Offaly got their campaign under new manager Stephen Wallace off to a flying start by trouncing Wexford on a score-line of 3-16 to 0-9.
Jordan Hayes (2) and Cian Johnson registered the first-half goals that saw the Faithful men take in a 3-5 to 0-5 lead at the half.
The struggling Slayneysiders would only manage 0-4 in the second-half and it suited Wallace's side to kick on for a much deserved victory as they look to turn around their county's fortunes in 2018.
Sean McCormack struck 0-6 as Longford defeated Louth in Darver with as many points to spare (2-13 to 1-10).
Pauric Gill's goal after six minutes helped the Midlanders to lead by 1-9 to 1-3 at the half and while Newtown Blues man Ross Nally pulled one back almost immediately for the Wee County, it was the visitors that dominated large portions of the second-half to go in by six at the interval.
Pete McGrath's team would have the wind at their backs for the second-half and used it well with points from Sam Mulroy, who would go off injured and be replaced by Ronan Holcroft, and James Butler helping them to draw level.
However, Denis Connerton's side got their second goal at the perfect time through Andrew Farrell to put his side back in the ascendency and further points from McCormack and Dessie Reynolds saw them safely over the line.
In Bray, Turlough O'Brien's Carlow side made a strong start and never looked backed as they handed Wicklow a 3-8 to 0-6 defeat.
Sean Gannon's first-half goal was backed up by a double (one a penalty) in the second from John Murphy that sealed the deal, with Darren Hayden leading the scoring at the other end for the home side.
Westmeath - E Carberry; K Daly, S Duncan, M McCallon; J Dolan (1-0), G Carr, N Mulligan; A Stone, D Corroon (0-1); G Leech (0-2f), L Loughlin (0-5, 1f), N Scally; C McCormack (0-3), K Martin, J Egan. Subs: F Coyne (0-2) for G Leech, C Shanley for K Martin, C Slevin for J Egan, J Marshment for N Scally, B Sayeh for A Stone, B Kavanagh for L Loughlin.
Laois - G Brody; D Holland, M Timmons, R Fennell; T Collins, B Glynn (0-2), E Buggy; J O'Loughlin, P McEvoy; A Dowling (0-1), P Kingston (1-0), A Farrell; S Moore, G Walsh (0-9, 7f), R Donagher. Subs: E Lowry for E Buggy, D Luttrell for P McEvoy, C Finn for M Timmons, R Murray for A Farrell, D Whelan for R Donagher, F Crowley for B Glynn.
Referee - P Maguire.
**
Offaly - P Dunican; D Brady, J Lalor, D Hogan; D Dempsey, S Pender, C Donohue; C Dunne, S Nally; J Hayes (2-0), A Sullivan, M Brazil; B Allen (0-6, 2f), C Johnson (1-3), S Doyle (0-4, 2f). Subs: B O'Dea (0-1) for J Hayes, J O'Connor (0-1) for M Brazil, B Rohan for P Dunican, G Spollen for S Nally, M Brazil for A Sullivan, S Tierney (0-1) for C Johnson, J Egan for D Brady, J Hayes for C Donohue.
Wexford - M Doyle; J Rossiter, M O'Neill, M O'Connor; M Furlong, C Carty (0-1), G Malone (0-1); S Byrne, N Doyle; J Stafford, D Shanley (0-3f), D Holmes (0-2); C McCabe, M Rossiter (0-1), C Devereux (0-1). Subs: D Lyons for S Byrne, P Curtis for J Stafford, R Frayne for D Holmes, G Sheehan for M O'Connor, C Swaine for M Doyle, A Nolan for M O'Neill, B O'Connor for M Rossiter, D Pepper for C Devereux, Q Sanders for G Malone, D Furlong for D Shanley.
Referee - N Ward.
**
Longford - P Collum (0-1'45); P Fox, P McCormack, B McKeon; M Quinn (0-1), B Gilleran, P Foy; D Gallagher, C Berry (0-1); R McEntire (0-2), D Reynolds (0-1), P Gill (1-1); D Carrigy, S McCormack (0-6, 4f), A Farrell (1-0). Subs: C Lee for R McEntire, S Donohue for P McCormack (BC), P Hanley for D Galllagher (BC), C Reilly for P Gill.
Louth - L Haggins; J Bingham, P Reilly, F Donohoe; D Maguire, B Duffy, A Khan; A McDonnell, T Durnin (0-1); C McKeever, J McEneaney (0-1), C Downey; W Woods (0-3, 1f), S Mulroy (0-3, 2f), R Nally (1-0). Subs: J Butler (0-2) for C Downey, N Conlon for R Nally, R Holcroft for S Mulroy, E Keenan for D Maguire.
Referee - P Coyle.
**
Carlow - R Molloy; B J Molloy, S Redmond, C Lawlor; J Morrissey, D St Ledger, C Moran (0-1); B Murphy, S Murphy; S Gannon (1-0), D O'Brien, E Ruth; P Broderick (0-2, 1f), D Foley (0-2, 1f), J Murphy (2-1, 1-0pen). Subs: C Kearney for R Molloy, L Roberts for D St Ledger, D Walshe (0-1) for D O'Brien, D Moran for S Murphy, B Kavanagh for D Foley, L Walker for J Morrissey, J Clarke (0-1) for E Ruth, B Cawley for B J Molloy, C Crowley for P Broderick, S Doyle for S Gannon, J Kennedy for C Moran.
Wicklow - M Jackson (0-2f); J Snell, H Wilson, P Merrigan; R O'Brien, D Healy, J Crowe; R Finn (0-1), K Murphy; P O'Toole, D Hayden (0-2), C McGee; J McGrath, S Furlong (0-1f), C Byrne. Subs: C Hyland for H Wilson, D Fitzgerald for C McGee, G Murphy for J McGrath, T Smith for P O'Toole, B Kennedy for J Crowe, A Nugent for C Byrne, PJ O'Keeffe for J Snell, M Kenny for S Furlong, S Kearon for D Hayden.
Referee - J King.
Most Read Stories