SFC Qualifier: Faithful men bounce back to oust Antrim
June 09, 2018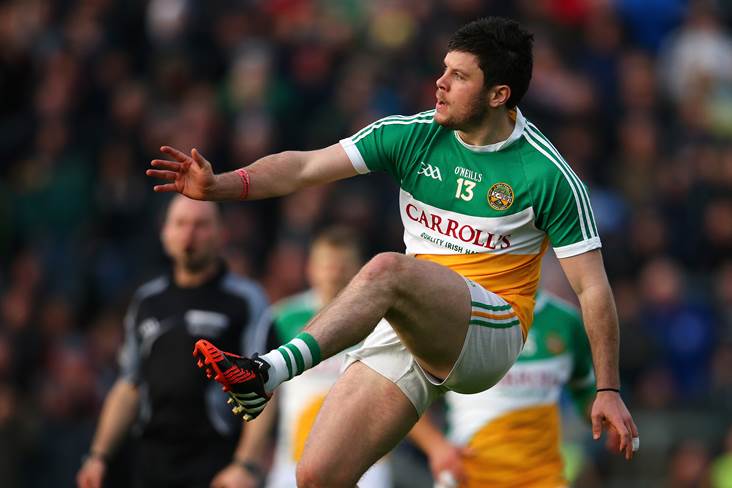 Offaly's Bernard Allen.
©INPHO/Cathal Noonan.
By Daragh Ó Conchúir
Offaly 2-20
Antrim 1-15
Offaly put the fallout that resulted from defeat to Wicklow in the Leinster Championship behind them, as they amassed a whopping score and secured a deserved eight-point victory over Antrim at O'Connor Park.
The hosts showed commendable resolve in the second half after Nigel Dunne was sent off by Martin McNally in the 44th minute, to streak clear in the final quarter.
When Dunne was shown a straight red card as a result of an off-the-ball incident, Offaly led by five but two quick points by Patrick McAleer and top scorer Patrick McBride cut the margin to three with more than 22 minutes still remaining.
Displaying a spirit that was lacking last month in Portlaoise however, the Faithful men outscored their opponents by 2-6 to 1-4 in that closing period despite the numerical disadvantage, to record a deserved win.
Paul Rouse and his new management team were brought in after Stephen Wallace's services were dispensed with and they quickly prevailed upon Brian Darby to return from retirement, while Johnny Moloney was invited to make himself available having absented himself from the squad after failing to see eye-to-eye with Wallace.
Both had hugely influential outings, with the former coming forward from corner-back to score a point and set up the vital 50th minute goal for Bernard Allen.
Meanwhile Moloney scored four points, with three from play in the first half coming after being moved to full-forward. He should have had a goal too but was denied by a dramatic Peter Healy interception.
There was plenty of energy about the game from the outside but Offaly held the upper hand for the opening 25 minutes or so, albeit marginally.
The Saffron men funnelled 13 players back and though conceding many turnovers when moving forward initially, gradually began to make hay with McBride hitting five of his scores in the opening period, including two from play.
Dunne, who had been substituted in the first half against Wicklow and came back on to miss a penalty, having been alleged to have threatened to leave the venue at half time, was having a much more positive impact for Offaly, scoring three points from play in that first half, and Moloney repeated the trick.
Antrim will rue a butchered goal opportunity - not quite as bad as Moloney's failure to convert a little later - but Patrick Gallagher skewed a shot wide off his left, with James Lalor completely free on his shoulder.
Significantly, Offaly scored the last three points of the first half from Moloney, Niall Darby and Allen to make it 0-11 to 0-9 at half time.
Shane Nally, Brian Darby and goalkeeper Alan Mulhall with the first of his two second-half frees ensured the gap was stretched to five when Dunne got his marching orders, but Rouse and the majority of the 2,046 in attendance, will have been delighted by the response.
Allen's goal came at the end of a lovely move and Offaly enjoyed themselves from there to the end, with Allen, Mulhall and Shane Tierney among the scorers.
Jamie Evans found the net in the first minute of injury time and though they conceded at the other end to James Smith 30 seconds later, they had more than enough of a cushion to book a place in the pot for the second round of the Qualifiers.
Scorers for Offaly: B Allen 1-2 (0-1f); J Moloney 0-4(1f); N Dunne 0-3; J Evans 1-0; A Mulhall (2fs), S Tierney (1f) 0-2 each; B Darby, N Darby, S Nally, M Brazil, C McNamee, C Donohue, A Sullivan 0-1 each
Scorers for Antrim: P McBride 0-6(3fs); J Smith 1-0; R Murray (1f), C Duffin, S Beatty 0-2 each; P McAleer, M McCarry, K Healy 0-1 each
Offaly: A Mulhall, B Darby, J Lalor, S Pender, D Hogan, P McConway, N Darby, M Brazil, J Moloney, C Donohue, S Nally, C McNamee, B Allen, A Sullivan, N Dunne. Subs: R McNamee for Nally (44), J Evans for Donohue (58), S Tierney for Allen (64), D Dempsey for Hogan (66), J Hayes for Sullivan (68), E Carroll for Moloney (70+2)
Antrim: A Hasson, K O'Boyle, P Gallagher, N Delargy, P Healy, M Sweeney, J Laverty, P McAleer, C Murray, P McBride, M Fitzpatrick, R McCann, K Healy, R Murray, C Duffin. Subs: S Beatty for Murray inj (23), N McKeever for O'Boyle (28), M McCarry for McKeever (53), J Smith for McCann (54), O Eastwood for K Healy (58), P Branagan for Laverty (61)
Referee: M McNally (Monaghan)
Most Read Stories