Refs to issue tougher punishment on melees
May 10, 2018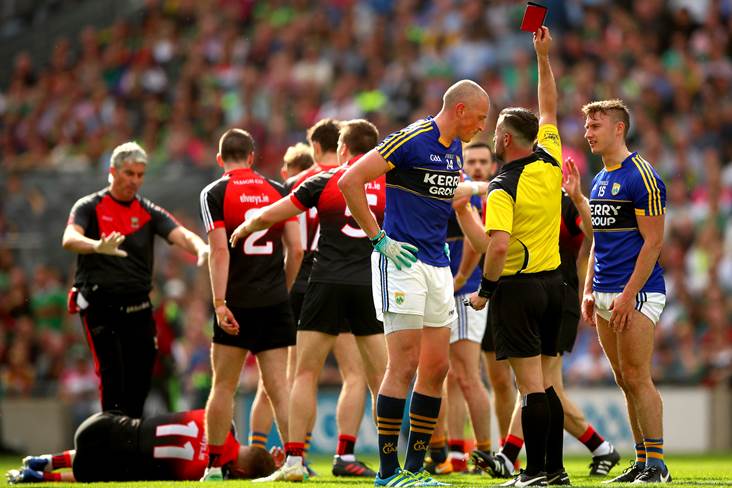 Kerry's Kieran Donaghy is shown a red card by referee David Gough against Mayo.
©INPHO/James Crombie.
Referees Development chairman Willie Barrett has warned that there will be a zero-tolerance approach to melees during this summer's All-Ireland senior football championship.
Speaking at a media briefing yesterday, Mr Barrett warned that referees have been told to adopt a more strict approach to punishing players - particularly the first one or two that come in and escalate a situation between two players.
"We've seen a number of games where a melee has occurred and we've asked our referees to deal with it very strongly," Mr Barrett is quoted saying by The Irish Sun.
"Where there are two players involved, it's fine, the referee can deal with it. But where more players come in and add to that, it then becomes a melee.
"What's a melee? Making a bad situation worse. So we feel that we need to deal with that and we've given clear instruction to referees that red cards must be issued in those situations where players are coming in and you're eventually seeing five or six or seven players involved.
"We would be particularly honing in on the first and second person in to the melee, shall we say, after the ­initial two players have been involved."
The former inter-county referee added: "We're not encouraging multiple red cards, but we are encouraging that fellas will be dealt with who move in and are the lads who contribute most to that melee - made it worse, in other words."
Most Read Stories