FL top scorers: Walsh by the skin of his teeth
April 05, 2018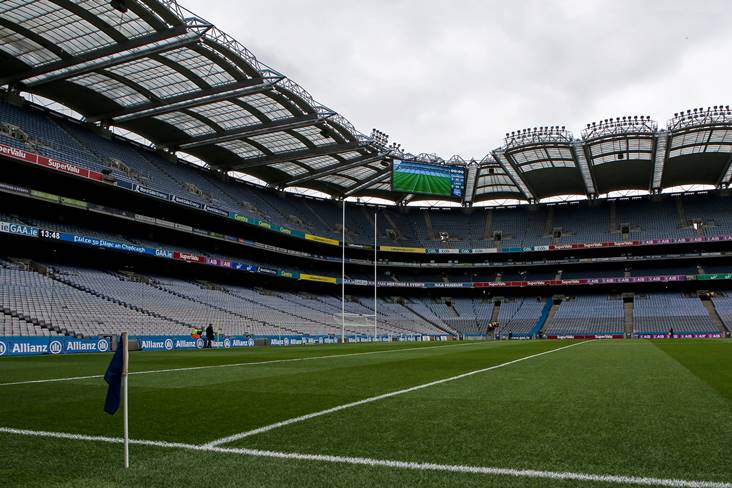 The 2018 Allianz Football League's top scorer race went right down to the wire.
©INPHO/Laszlo Geczo.
Gary Walsh has finished as the Allianz Football League's top scorer for 2018 by the skin of his teeth.
The livewire full forward, who was dropped from the Laois team for last Saturday's Division 4 final victory over Carlow after hitting the headlines for all the wrong reasons in the run-up to the Croke Park showdown between the neighbours, notched an impressive 4-41 in six games.
Sitting on the sidelines for a breach of discipline and leading by just three-points, Walsh looked likely to be overtaken by Paul Broderick (who had an average of 0-7 per game going into the decider) but the Carlow ace could only muster two scores to end the campaign in second place on 2-46.
Seamus Quigley's haul of 0-9 in Fermanagh's Division 3 final defeat to Armagh sees the Roslea ace finish third with 4-37, six-points clear of Tipperary's Conor Sweeney (3-34) while Diarmuid Murtagh (3-27) also moves up the pecking order following Roscommon's Division 2 success.
Fermanagh's Seamus Quigley. ©INPHO/Oisin Keniry.
Tyrone's Lee Brennan holds the honour of being the leading scorer in Division 1 as his tally of 2-30 is just better than that of Dublin's Dean Rock (1-32).
With 5-5 to his name overall, Tipperary All-Star Michael Quinlivan is the league's top goalscorer.
The highest individual score is Keith Beirne's 2-8 for Leitrim against Limerick in Round 4.
Overall league top scorers:
Gary Walsh, Laois 4-41 (53)
Paul Broderick, Carlow 2-46 (52)
Seamus Quigley, Fermanagh 4-37 (49)
Conor Sweeney, Tipperary 3-34 (43)
John Heslin, Westmeath 1-36 (39)
Keith Beirne, Leitrim 3-28 (37)
Diarmuid Murtagh, Roscommon 3-27 (36)
Lee Brennan, Tyrone 2-30 (36)
Dean Rock, Dublin 1-32 (35)
Division 1
Lee Brennan, Tyrone 2-30 (36)
Dean Rock, Dublin 1-32 (35)
Paddy McBrearty, Donegal 0-34 (34)
Barry McHugh, Galway 1-27 (30)
Ciaran Kilkenny, Dublin 2-18 (24)
Kevin Feely, Kildare 0-23 (23)
David Clifford, Kerry 0-21 (21)
Conor McManus, Monaghan 1-17 (20)
Sean O'Shea, Kerry 0-20 (20)
Division 2
Conor Sweeney, Tipperary 3-34 (43)
Diarmuid Murtagh, Roscommon 3-27 (36)
Colm O'Neill, Cork 2-26 (32)
Mark Collins, Cork 1-28 (31)
Donie Smith, Roscommon 1-28 (31)
Eoin Cleary, Clare 0-29 (29)
Liam McGrath, Tipperary 3-17 (26)
Donal O'Hare, Down 2-19 (25)
Division 3
Seamus Quigley, Fermanagh 4-37 (49)
John Heslin, Westmeath 1-36 (39)
Nigel Dunne, Offaly 0-32 (32)
Robbie Smyth, Longford 2-25 (31)
Emmett Bradley, Derry 3-18 (27)
Rory Grugan, Armagh 1-23 (26)
Ethan Rafferty, Armagh 2-18 (24)
Andrew Murnin, Armagh 4-9 (21)
Luke Loughlin, Westmeath 1-18 (21)
Adrian Marren, Sligo 0-21 (21)
Division 4
Gary Walsh, Laois 4-41 (53)
Paul Broderick, Carlow 2-46 (52)
Keith Beirne, Leitrim 3-28 (37)
Liam Gavaghan, London 3-20 (29)
Jason Curry, Waterford 1-25 (28)
Ryan Murray, Antrim 1-22 (25)
Jamie Lee, Limerick 1-17 (20)
Paddy McBride, Antrim 0-20 (20)
Goalscoring charts:
Michael Quinlivan (Tipperary) 5
Andrew Murnin (Armagh) 4
Seamus Quigley (Fermanagh) 4
Gary Walsh (Laois) 4
Daniel Flynn (Kildare) 3
Donal Lenihan (Meath) 3
Cathal Cregg (Roscommon) 3
Diarmuid Murtagh (Roscommon) 3
Conor Sweeney (Tipperary) 3
Liam McGrath (Tipperary) 3
Emmett Bradley (Derry) 3
John Murphy (Carlow) 3
Keith Beirne (Leitrim) 3
Liam Gavaghan (London) 3
Odhran MacNiallais (Donegal) 2
Ciaran Kilkenny (Dublin) 2
Niall Scully (Dublin) 2
Eamonn Brannigan (Galway) 2
Diarmuid O'Connor (Mayo) 2
Lee Brennan (Tyrone) 2
Ciaran Brady (Cavan) 2
Dara McVeety (Cavan) 2
Colm O'Neill (Cork) 2
Donal O'Hare (Down) 2
Bill Maher (Tipperary) 2
Ethan Rafferty (Armagh) 2
Enda Lynn (Derry) 2
Conall Jones (Fermanagh) 2
Conor Berry (Longford) 2
Robbie Smyth (Longford) 2
Cian Donohue (Offaly) 2
Nick Doyle (Wexford) 2
Paul Broderick (Carlow) 2
Darragh Rooney (Leitrim) 2
Josh Ryan (Limerick) 2
Killian Butler (London) 2
Gavin Crotty (Waterford) 2
Highest individual scores from each round:
Round 1 
Liam McGrath (Tipperary v Cork) 2-5
Round 2
Gary Walsh (Laois v Leitrim) 1-8
Round 3
Gary Walsh (Laois v Waterford) 0-10
Round 4
Keith Beirne (Leitrim v Limerick) 2-8
Round 5
Paul Broderick (Carlow v Wicklow) 1-7
Round 6
Gary Walsh (Laois v London) 0-11
Round 7 
Jason Curry (Waterford v London) 1-9
Most Read Stories