The MFC Division 1 final will be played before the senior decider
July 11, 2018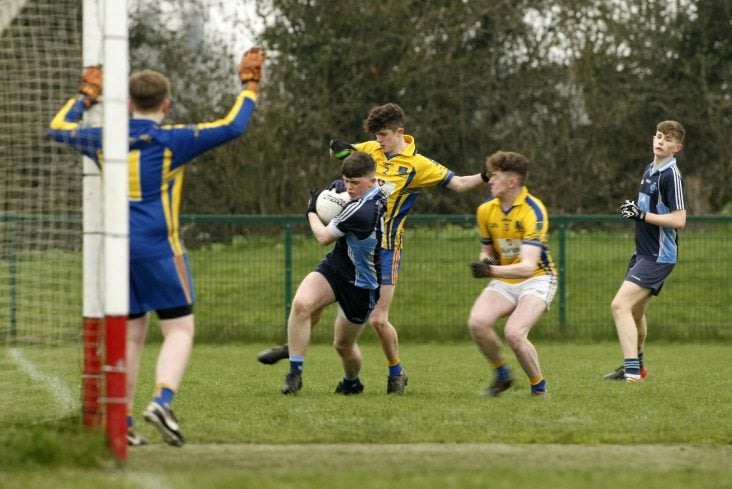 Seneschalstown defeated St. Colmcilles in this years U17 Division 1 FL final at Lomans Park Trim
The gradings and fixtures for the LMFM Minor Football Championship which will commence on Wednesday August 15th have been announced.
Round 2 will then take place on Wednesday September 5th.
The Division 1 Cup Final will take place on Sunday October 14th as the preceding game to the SFC Final. 
The top two in each group will progress to the Cup semi-finals with the bottom two in each group (bottom 3 in Division 4A) moving into the Shield. 
First named team has home advantage
Division 1A
Round 1
Trim v Seneschalstown
Simonstown v O'Mahonys
Round 2
O'Mahonys v Trim
Seneschalstown v Simonstown
Round 3
Seneschalstown v O'Mahonys
Simonstown v Trim
Division 1B
Round 1
St. Ultans/Cortown Gaels/Round Towers v St Colmcilles
Donaghmore Ashbourne v Ratoath
Round 2
Rattan v St. Ultans/Cortown Gaels/Round Towers
St. Colmcilles v Donaghmore Ashbourne
Round 3
St Colmcilles v Ratoath
Donaghmore Ashbourne v St. Ultans/Cortown Gaels/Round Towers
Division 2A
Round 1
North Meath Gaels v Wolfe Tones
Dunderry v Dunshaughlin
Round 2
Dunshaughlin v North Meath Gaels
Wolfe Tones v Dunderry
Round 3
Wolfe Tones v Dunshaughlin
Dunderry v North Meath Gaels
Division 2B
Round 1
Clann Na nGael v Duleek Bellewstown
Skryne v Walterstown
Round 2
Walterstown v Clann Na nGael
Duleek Bellewstown v Skryne
Round 3
Duleek Bellewstown v Walterstown
Skryne v Clann Na nGael
Division 3A
Round 1
Bective/Dunsany v Oldcastle
Ballinabrackey v Moynalty/Carnaross
Round 2
Moynalty/Carnaross v Bective/Dunsany
Oldcastle v Ballinabrackey
Round 3
Oldcastle v Moynalty/Carnaross
Ballinabrackey v Bective/Dunsany
Division 3B
Round 1
Killary Emmets v St. Olivers
Summerhill v St. Vincents/Curraha
Round 2
St. Vincents/Curraha v Killary Emmets
St. Olivers v Summerhill
Round 3
St. Olivers v St. Vincents/Curraha
Summerhill v Killary Emmets
Division 4A
Round 1
Boardsmill v Ballivor
Na Fianna v Kilbride
St Michaels/Nobber bye
Round 2
Ballivor v Na Fianna
St Michaels/Nobber v Boardsmill
Kilbride bye
Round 3
Na Fianna v St Michaels/Nobber 
Kilbride v Ballivor
Boardsmill bye
Round 4
Boardsmill v Na Fianna
St Michaels/Nobber v Kilbride
Ballivor bye
Round 5
Ballivor v St Michaels/Nobber 
Kilbride v Boardsmill
Na Fianna bye
Division 4B
Round 1
Jenkinstown Gaels v Longwood/Clonard
St. Marys/Slane v St Pats
Round 2
St. Pats v Jenkinstown Gaels
Longwood/Clonard v St. Marys/Slane
Round 3
Longwood/Clonard v St Pats
St. Marys/Slane v Jenkinstown Gaels
Most Read Stories