Ladies IFC: Don/Ash win game of two halves
May 17, 2018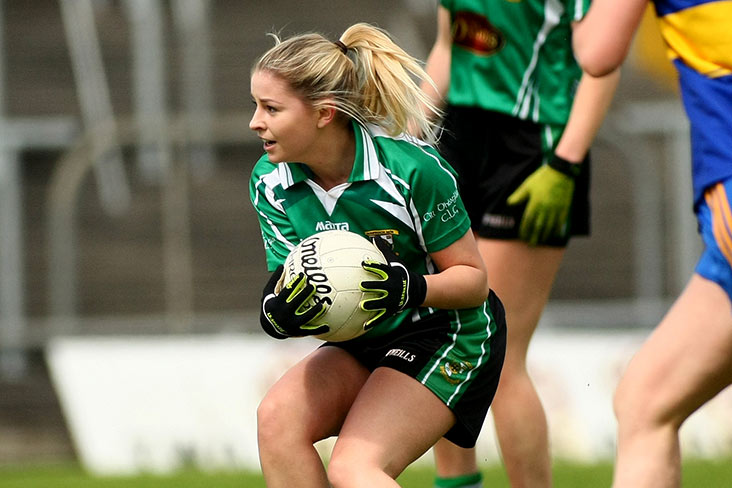 Sophie Geoghegan Donaghmore Ashbourne
So...a game of two halves.  The 2nd round of the Meath LGFA Intermediate Championship took place on home ground for the 'Moores' women. A game that saw a lot in the first half. A dubious goal, a penalty and then a goal disallowed for the Donaghmore women only spurred them on to hold their opponents to no score in the second half. 
The opening half was fast and furious with the visitors certainly putting it up to Donaghmore. Donaghmore opened the scoring with Abbie Timmons (0-8) pointing. Cilles responded with a goal only for Aoife Toner (1-0) to do the same. A goal for Cilles gave them the lead only for Maggie Randall (1-03) to equalise. A fine point by defender Michelle Peel (0-1) gave the Moors the narrowest of margins. The visitors were awarded a disputed penalty which they dispatched to the net. From the kick out fine play from the Heffernan sisters, Peel and Aoife O Rourke found O'Shaughnessy (0-2) who was fouled. The resulting free  taken by Timmons hit the back of the net only for the goal to be disallowed. Clare Mullen paired well with Siofra Cleary to distribute ball around the field. This led to another point for Don Ash but it the visitors that went in at the break in front 3-0 to 1-5.
The second half half resumed with Donaghmore Ashbourne coming out on fire. They held their opponents to no score while kicking a total of 2 -11. The play was firmly in  Donaghmores hands. OShaughnessy showed her prowess, strong and clever play with Toner sent ball into the forward line. Points from O'Shaughnessey and Timmons and a goal by Aisling Doherty spurred the team on. While the scoring was plenty the backs were excellent. Judy Bobbett found her defence in her strong kickouts. Hassling and harrying, Ciara Menton cleared up lots of ball. O'Rourke was given lots of attention by her opponent's. Emma McCarney again covered lots of ground. Another 8 unanswered points from the aforementioned Ashbourne forward line and a sweet goal from Randall with Sophie Geoghegan (0-1) and Roisin Williams (0-1) also getting on the scoreboard.
 This was a solid team performance. The girls showed grit, when it seemed like things were going against them , under the watchful eye of manager Tom O'Connor and Mary OShaughnessey they did what they do well...they played football. 

Donaghmore Ashbourne: J Bobbett, C Menton, M Peel (0-1), K Heffernan, E McCarney, A ORourke, M Heffernan, S Cleary, C Mullen, A Toner (1-0), M OShaughnessey (0-2), S Geoghegan (0-1), A Doherty (1-0), M Randall (1-03), A Timmons (0-8). 
Subs: L Butler for Toner, R Williams (0-1) for Doherty, H Keogh for Menton, S Power for Randall,  E Smith for Geoghegan.
Most Read Stories