AFL2: Syddan comeback falls short against Trim
July 10, 2018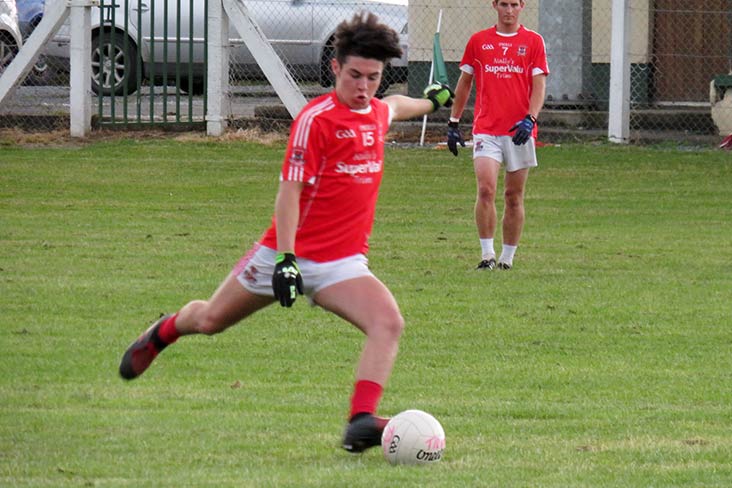 Trim's Aaron Lynch
Trim 2-15  Syddan 2-13

A much improved last quarter saw Syddan reduce a nine point deficit to just two in their final group Division Two match against visitors Trim on Tuesday evening.

The hosts made a very slow start to proceedings and found themselves 1-4 in arrears before Brian Dillon opened their account from a free in the second quarter.

Brian Dowling and Paul Munnelly both struck for Trim goals as the town side enjoyed a 2-4 to 0-1 lead approaching half-time.

A superbly taken goal by Gary Farrelly, which he followed up with a point from a free, and another point from Cormac Rowe improved matters for Syddan who trailed 1-3 to 2-5 at the break.

Trim restarted with points from Ciaran Joyce and Eoin McGrath and they again enjoyed the better of the exchanges as they built up a 2-14 to 1-8 cushion by the 50th minute.

However from there to the final whistle a fast finishing Syddan outscored their opponents 1-5 to 0-1.

Stuart Fedigan kick-started the revival with a point and Brian Dillon, Cormac Rowe and Gary Farrelly were all on the mark before Fedigan fired to the net.

Sean Clare added Syddan's last point with Trim's only score in the same period coming from Eoin McGrath.

Syddan take on Oldcastle in the Division Two final in Pairc Tailteann this Sunday at 12.45.

Syddan: Ciaran Farrelly; Mark Fedigan, Ronan Mooney, Thomas Meade; Stuart Fedigan (1-1), Cormac Rowe (0-2), Ryan Summersby; Sean Clare (0-1), Cathal Dardis; Graham Garland, Gary Farrelly (1-3), Stephen Tallon (0-1); Brian Dillon (0-4), Paddy Farrelly, Padraic Dillon. Subs: Peter Sheehy (0-1) for Meade, Cormac Rafferty for Mooney.
THE DRIVE FOR FIVE MAINTAINS DIVISION TWO A LEAGUE FOOTBALL FOR TRIM FOOTBALLERS
Trim 2-15  Syddan 2-13
In the last  thirty days Trim A League footballers have played five league matches and have won all five, the drive for five proved to be the reason the Trim footballers pulled off the most unlikely survival acts in recent history  to remain in Division two A  of the All County football league . Three games in the last seven days,  Throw in a senior hurling championship match, a junior hurling championship match in the thirty days would mean most of these footballers would have played at least six games in thirty days.  Rock bottom of the division with only one win from the previous seven games the odds of Trim staying in Division two were most unlikely. This group of Trim footballers had a never say die attitude in every game the lost and battled until the end in matches that were out of their grasp.  This attitude was to stand to them when they got themselves in a winning position and that they did in all of the last five matches. Last night in north Meath at the Syddan club the vain of good for continued by the townies as we were so affectingly  called by the local Syddan contingent raced into an early lead with two pointed frees from Aaron Lynch. Trim dominated the early exchanges and added another point in the tenth minute from Captain James Cullen. Then Brian Dowling had a great goal chance from five yards out but youngster Dowling fluffed his lines and kicked a tame shot wide. One minute later Dowling got another goal chance , to be fair a more difficult one but Beano made up for his miss sixty second earlier by slotting a love shot wide of the keeper. The very impressive Ciaran Joyce score his first of three points on the twenty minute mark to leave trim one goal and five points to Syddan's  no score after twenty minutes. Trim then got another goal from the very hard working Paul Munnelly who has been a revelation at wing forward in the last five matches. His tireless running and covering and his overall work rate for his team have been a feature of this five match winning streak. This goal put Trim eleven points up with four minutes to go in the first half but to their credit Syddan produced a mini revival in these four minutes and score a goal a two points to leave six between the sides at half time.
Half Time Score: Syddan 1-2 Trim 2-5
Time got out of the block fast in the second half with two quick points from Ciaran Joyce and one from Owen McGrath in the first two minutes of the second half. Joyce and McGrath are enjoying their best form in the Red jersey for a while with McGrath getting an injury free run he can be a lethal force for Trim. Joyce's hard work on the training pitch in the last two months is now paying rich dividends and his strength and awareness are vital to the team's success. By thirty ninth minute McGrath and Joyce had added another brace of points between them to leave Trim with a very comfortable lead of nine points. Syddan then began to enjoy some dominance of play and notched a goal and two points without reply to leave just four points between the sides.  Captain James Cullen steadied the ship with a lovely point from thirty yards. Syddan were not going to lie down and hit another two unanswered points, now there were only three points in it with five to play. Syddan were looking for a goal but the Townies defence stood firm and thwarted the Syddan forwards. The Reds broke up field and McGrath got his sixth point from play to cap of a man of the match performance. Syddan got the last score of the game a pointed free in the second minute of additional time.
This survival act has been a great and very enjoyable journey for Trim Gaa people. It was great to witness the passion and pride the players had to try and keep their club up in the respectability of Division two football for the 2019 season. Every payer did their part in this astonishing run of victories. In all sectors of the pitch every player that took the field as a starter or came on as a sub were brilliant and should be very proud of themselves. The Management team of Brendan Murphy, Mark Gilsenan, Diarmuid Dempsey and Barry Moyles  must be given great credit as well, they stood by the players when things were not going well during the league, they stood up for their players when others in the club were doubting them  and they believed in the players ability  and this is at least half the battle when you manage  a team. Their must be trust between the Players and the Management team and Murphy looks to have got this spot on and fair play to him.  Let's all hope now that this team  can bring the league for into the championship which resumes at the end of the month if they do The Trim Gaa people have a few enjoyable months ahead.
Full Time Score : Syddan 2-13 Trim 2-15
Trim: Barry O'Callaghan; Rory McGrath, Luke Moran, Patrick Lennon; Daryl  Phylan, Ciaran O'Rourke (0-1), Dimmy Higgins; Francis Murphy, Alan Douglas; James Cullen (0-2), Owen McGrath (0-5), Paul Munnelly (1-0); Brian Dowling (1-0),Ciaran Joyce (0-3), Aaron Lynch (0-4)
Most Read Stories