AFL3: Ballinlough finish with win
July 10, 2018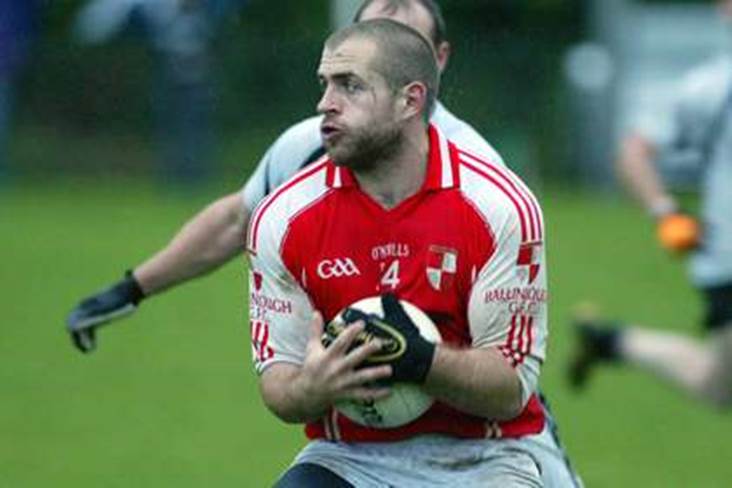 Ballinlough's Simon Deevy.
Ballinlough 1-18   Longwood  1-14
Ballinlough fished off their final league match with a win in Kilskyre and moved to the top half off Div 3.
This game had no real significance as neither team had anything to gain or loose . The game itself was a good open contest as a result and entertaining to watch . The home team never really looked in trouble with Mark McCullen and Niall Farrelly dominating the ariel exchanges . Both were also on target early with McCullen helping himself to 3 points. The Reds led 9 - 5 at halftime. The free flowing game continued in the second half but with man of the match Johnnie Reilly making probing runs upfield and the excellent Simon Deevey winning a lot of ball upfront the ' Lough looked comfortable until Longwood converted a penalty leaving only a score in the difference.
But the ever reliable Podge Muldoon cleaned up defensively and good scores coming from Josh Lynch and Substitute Peader Byrne kept Ballinlough noses in front until a brilliant individual goal from Deevey finally put the game beyond doubt . The home team were also well served by Emmet Smith , Lorcan Maguire and Benjy Smith 
Ballinlough: D.Muldoon; R.Farrell (0-1), P.Muldoon, M.Farrell; J.Baugh, M.Geraghty (0-2), J.Reilly (0-2); L.Maguire, N.Farrelly (0-3); E.Smith, R.McGuiness, M.McCullen (0-3); B.Smith (0-1), S.Deevey (1-1), J.Lynch (0-2). Subs: N.McDonnell, P.Byrne (0-2), E.McCabe, J.O'Higgins.
Most Read Stories