B FL Div 1: Skryne brush aside Summerhill to keep unbeaten run going
May 14, 2018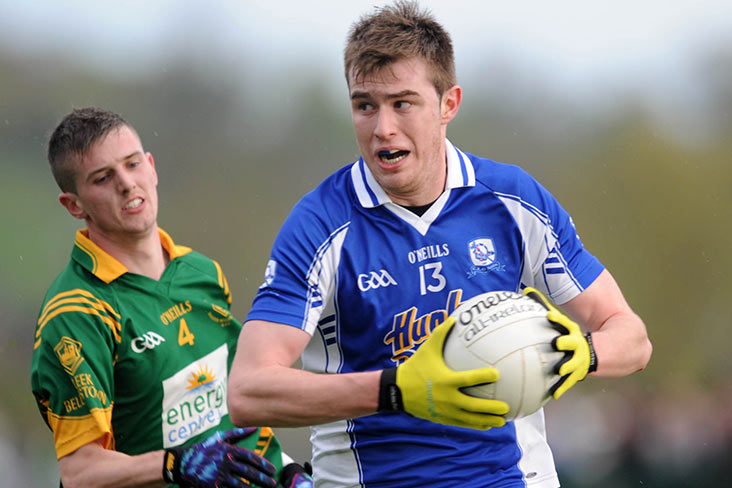 Skryne's Ian Davis
Skryne 2-15 Summerhill 0-11
Skryne's second team marched to a fourth victory from four games today to maintain their position at the top of the B League Division 1 table with a comfortable win over Summerhill in sunny Skryne this morning.
Jayo Fox got Skryne off to a quick start with a point in the opening attack of the game. Summerhill replied with a point of their own. Ian Davis added a free for Skryne. The Hill were certainly intent on making their mark on this game and hit Skryne hard throughout. Despite their physicality which was somewhat over zealous at times, it was ironic that they won a particularly soft penalty with only seven minutes on the clock, when one of their forwards went to ground in the penalty area, from what appeared to be only slight contact. The penalty was blasted wide and justice prevailed. Skryne were the much more fluent side throughout and scored some fine points with James Hegarty and Niall Morley bagging two beauties. Skryne scored their first goal of the game on the 19th minute when Felim O'Rourke got on the end of a pass from Paddy Doherty and rifled the ball past the Summerhill keeper. Skryne won the kickout and Colm Doherty got the first of a hat-trick of points. Summerhill found it hard to break down the stubborn Skryne rearguard with the full-back line of Timmy Lennon, Darren Fox and Barry Clarke (and later Niall Lenehan) in fine form. Summerhill clocked up three frees and only two points from play in the opening half. Half-time score: Skryne 1-06, Summerhill 0-05.
The second half was a one sided affair as Skryne stepped on the gas and reeled off five points without a reply inside the opening seven minutes of the half with points from Colm Doherty(2 pts), his brother Michael and two frees from Ian Davis. Summerhill pulled one back on the eight minute. However Skryne powered further ahead when Ian Davis slotted home Skryne;'s second goal midway through the half. The scoreline didn't make good reading for the Summerhill men. However, it could have been much worse as Skryne were guilty of missing some good goal chances. Summerhill brought on former Meath midfielder Conor Gillespie and sent him into the full forward position. Gillespie did cause some problems as Summerhill resorted to hoofing the ball into the big full forward who proved to be quite a handful and Summerhill pulled two points back as Gillespie broke ball to some of his forward colleagues. Des Mc Avinney also pulled off a couple of nice saves to deny Summerhill when on the rare occassion they managed to get a shot on goal. Niall Morley and Ian Davis tacked on another two points for Skryne. Both teams swapped a couple of points each in the closing ten minutes with Colm Craigie and Allan Carty getting on the scoresheet. Final score: Skryne 2-15, Summerhill 0-11
This was a fine team display from Skryne who dominated in all areas of the pitch with the Doherty brothers winning the midfield battle, Ronan McCabe and Aidan Tuite superb throughout and up front Ian Davis and Colm Doherty were the scorers in chief, but they were well supported by Jayo Fox, Finno, Rourkey, Niall Morley and the Hedge
Skryne - Des McAvinney. Darren Fox, Timmy Lennon, Barry Clarke. Niall Morley (0-02), Ronan McCabe, James Hegarty (0-01). Michael Doherty (0-01), Paddy Doherty. Jason Fox (0-02), Colm Doherty (0-03), Aidan Tuite. Ian Davis (1-04, 3f), Felim O'Rourke (1-00), Ciarán Finnerty. Subs used - Niall Lenehan, Colm Craigie(0-01), Eddie Dunne, Frank Carty, Kevin Reilly and Allan Carty(0-01).
Most Read Stories