What they said … the weekend in quotes
December 18, 2017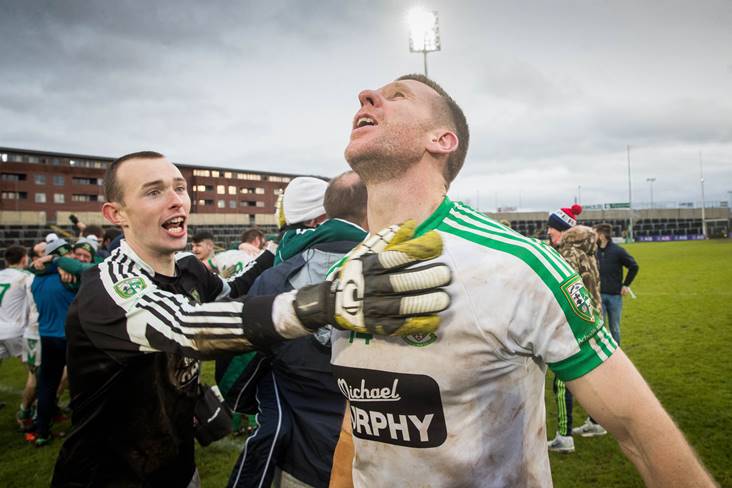 Moorefield's Ronan Sweeney looks to the skies after his side's Leinster club SFC final victory over St Loman's at O'Moore Park, Portlaoise.
©INPHO/Ryan Byrne.
"This is the best competition I've ever played in. There's nothing like the club to get the spirits going. This is incredible."
Ronan Sweeney basked in the glory of Moorefield's miraculous comeback against St Loman's.
"I'm beaming with pride with the spirit that group of players has shown today. The game did look dead and buried but the belief within the group, they never stopped trying at all."
The Kildare champions hit 1-4 without reply in the closing stages and manager Ross Glavin hailed his side's never-say-die attitude.
"The players are shell-shocked. I suppose I'm shell-shocked myself. As in any sport, if you get a goal that late you have the momentum. And then when I saw there were to be five minutes of injury-time, I thought 'this is going to go to the wire', which it did."
Defeat was a bitter pill for Luke Dempsey and his St Loman's players to swallow.
"It's just not acceptable for us to accept homelessness and the way it is growing. If it was shrinking you'd say 'right that's grand' but it's not and it's just not good enough."
Dublin hurling manager Pat Gilroy took part in the Gaelic Voices for Change homeless sleep-out.
"I'm not too sure where it goes from this but it has to go somewhere very quick. This can't be a flash in the pan job. This was too big, there were too many people that got behind this. We've achieved so much, if we do nothing else until 2018, when we do this again, it would be very sad. In order for us to make a real change, we have to keep being proactive, we have to keep engaging with everybody that's here and we have to keep pushing it through our social channels as much as possible."
Former Dublin footballer Eamonn Fennell was one of the chief organisers of the O'Connell Street sleep-out.
"I think Dublin - with the work that's going on at underage level on the hurling side - it's now getting up to the level that is there on the football side. Everybody saw Dublin's Under 17 team this year was very skilful and that's proof that the coaching is working."
New Dublin hurling coach Anthony Cunningham is excited about his new challenge.
"It was his leadership skills that made him stand out" commented Kearns. "Whenever there was a meeting and the players wanted to speak, you may have noticed that I always made sure Ciarán spoke last. That was because what he had to say would leave an impression. There were times when he left us with tears in our eyes"
Tipperary football manager Liam Kearns paid tribute to Ciaran McDonald who has been forced to retire from inter-county duty due to injury.
"When you play on the edge, you're putting your head in where actually you shouldn't. Unfortunately, I've seen stars on a number of occasions and probably had to put my hand up and look for rescue on the sideline."
Recently retired Mayo star Alan Dillon opened up against his experience of concussion when playing gaelic football.
"I'd love to be professional, definitely. 100%. I'd love to do it every day but that's just the way it is. To be honest I wouldn't change it. I wouldn't like to see it going down that road because it would lose our heritage, in Ireland especially. It wouldn't sit right with me. It would lose the community spirit."
The prospect of gaelic games going down the professional route doesn't appeal to Hurler of the Year Joe Canning.
"The inter-county is vital as the shop window of the Association, but can we continue to pump money into our teams at the current rate and survive? Most county boards are feeling the pressure and we are in a similar position regarding day to day spending. I believe the Association requires to have a major debate before it's too late."
Former Cork chairman Ger Lane expressed his concerns about the high costs involved in running inter-county teams after the Rebel County reported a loss of €326,000 for 2017.
"I suppose in hindsight, it's probably something that shouldn't be done or even thought of. You have to credit Dean Rock, he didn't bat an eyelid. He was never going to miss to be honest, he's that good a free-taker and you have to respect that."
Lee Keegan held his hands up over the GPS throwing incident in this year's Sam Maguire Cup decider.
Most Read Stories