FL top scorers: Broderick breathing down Walsh's neck
March 29, 2018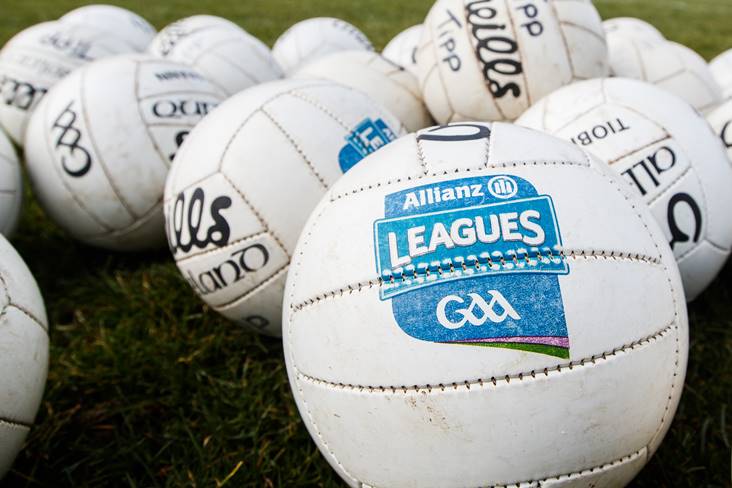 The race to be the 2018 Allianz Football League's top scorer is going down to the wire.
©INPHO/James Crombie.
Carlow's Paul Broderick is breathing down Gary Walsh's neck in the Allianz Football League's top scorer race.
Despite having played a game less (following the GAA's decision to declare his side's game against Antrim 'null and void'), Laois ace Walsh (4-41) holds a three-point lead over Broderick (2-44) going into Saturday's Division 4 final between the neighbours at Croke Park.
Fermanagh's promotion hero Seamus Quigley has moved up to joint third in the overall chart alongside Conor Sweeney. The in-form Quigley will be able to add to his 4-28 tally when the Erne County face Armagh in the Division 3 decider.
Paul Broderick needs to outpoint Gary Walsh by four in Saturday's Division 4 final to finish as the league's top scorer.
Tyrone star Lee Brennan has overtaken Paddy McBrearty at the top of Division 1 but with Dublin and Galway set to clash in Sunday's showpiece Dean Rock and Barry McHugh could potentially catch the Trillick attacker.
Last year's overall winner John Heslin, who sat out Westmeath's final round loss to Offaly, and Leitrim's Keith Beirne, scorer of 3-28 from just five outings, also feature in the top eight.
Waterford's Jason Curry recorded the highest individual score in Round 7 (1-9 v London) while in the goal scoring charts, Walsh and Quigley now share first place with Michael Quinlivan on four.
Overall league top scorers:
Gary Walsh, Laois 4-41 (53)
Paul Broderick, Carlow 2-44 (50)
Seamus Quigley, Fermanagh 4-28 (40)
Conor Sweeney, Tipperary 3-31 (40)
John Heslin, Westmeath 1-36 (39)
Keith Beirne, Leitrim 3-28 (37)
Lee Brennan, Tyrone 2-30 (36)
Paddy McBrearty, Donegal 0-34 (34)
Division 1
Lee Brennan, Tyrone 2-30 (36)
Paddy McBrearty, Donegal 0-34 (34)
Dean Rock, Dublin 1-25 (28)
Barry McHugh, Galway 1-21 (24)
Kevin Feely, Kildare 0-23 (23)
Ciaran Kilkenny, Dublin 2-16 (22)
David Clifford, Kerry 0-21 (21)
Conor McManus, Monaghan 1-17 (20)
Sean O'Shea, Kerry 0-20 (20)
Division 2
Conor Sweeney, Tipperary 3-31 (40)
Diarmuid Murtagh, Roscommon 3-23 (32)
Colm O'Neill, Cork 2-26 (32)
Mark Collins, Cork 1-28 (31)
Eoin Cleary, Clare 0-29 (29)
Donie Smith, Roscommon 1-25 (28)
Liam McGrath, Tipperary 3-17 (26)
Caoimhin O'Reilly, Cavan 1-20 (23)
Division 3
Seamus Quigley, Fermanagh 4-28 (40)
John Heslin, Westmeath 1-36 (39)
Nigel Dunne, Offaly 0-32 (32)
Robbie Smyth, Longford 2-25 (31)
Emmett Bradley, Derry 3-18 (27)
Rory Grugan, Armagh 1-23 (26)
Ethan Rafferty, Armagh 2-18 (24)
Luke Loughlin, Westmeath 1-18 (21)
Adrian Marren, Sligo 0-21 (21)
Division 4
Gary Walsh, Laois 4-41 (53)
Paul Broderick, Carlow 2-44 (50)
Keith Beirne, Leitrim 3-28 (37)
Liam Gavaghan, London 3-20 (29)
Jason Curry, Waterford 1-25 (28)
Ryan Murray, Antrim 1-22 (25)
Jamie Lee, Limerick 1-17 (20)
Paddy McBride, Antrim 0-20 (20)
Goalscoring charts:
Michael Quinlivan (Tipperary) 4
Seamus Quigley (Fermanagh) 4
Gary Walsh (Laois) 4
Daniel Flynn (Kildare) 3
Diarmuid Murtagh (Roscommon) 3
Conor Sweeney (Tipperary) 3
Liam McGrath (Tipperary) 3
Andrew Murnin (Armagh) 3
Emmett Bradley (Derry) 3
John Murphy (Carlow) 3
Keith Beirne (Leitrim) 3
Liam Gavaghan (London) 3
Odhran MacNiallais (Donegal) 2
Ciaran Kilkenny (Dublin) 2
Niall Scully (Dublin) 2
Eamonn Brannigan (Galway) 2
Diarmuid O'Connor (Mayo) 2
Lee Brennan (Tyrone) 2
Ciaran Brady (Cavan) 2
Colm O'Neill (Cork) 2
Donal Lenihan (Meath) 2
Bill Maher (Tipperary) 2
Ethan Rafferty (Armagh) 2
Enda Lynn (Derry) 2
Conall Jones (Fermanagh) 2
Conor Berry (Longford) 2
Robbie Smyth (Longford) 2
Cian Donohue (Offaly) 2
Nick Doyle (Wexford) 2
Paul Broderick (Carlow) 2
Darragh Rooney (Leitrim) 2
Josh Ryan (Limerick) 2
Killian Butler (London) 2
Gavin Crotty (Waterford) 2
Highest individual scores from each round:
Round 1 
Liam McGrath (Tipperary v Cork) 2-5
Round 2
Gary Walsh (Laois v Leitrim) 1-8
Round 3
Gary Walsh (Laois v Waterford) 0-10
Round 4
Keith Beirne (Leitrim v Limerick) 2-8
Round 5
Paul Broderick (Carlow v Wicklow) 1-7
Round 6
Gary Walsh (Laois v London) 0-11
Round 7 
Jason Curry (Waterford v London) 1-9
Most Read Stories