What they said … the football weekend in quotes
February 05, 2018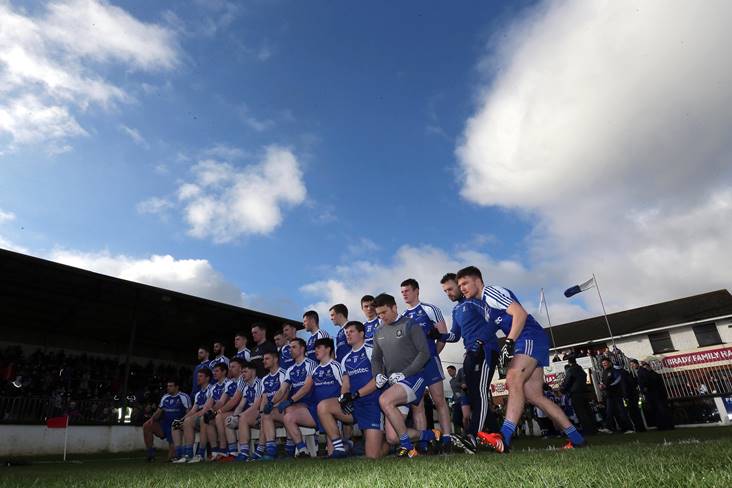 The Monaghan players pose for a team photograph before their Allianz FL clash against Kildare at St Conleth's Park, Newbridge.
©INPHO/Lorraine O'Sullivan.
"If we had played like that against anybody else tonight we'd have got two points."
Mickey Harte couldn't fault his team's effort against the Dubs in Healy Park on Saturday evening.
"It was very debatable. It was probably a tick but to be down to 14 men, midway through the second half, to eke out the scores and finish the way they did… a real all round performance."
Niall Scully's second-half dismissal was queried by Jim Gavin.
"We could have left the fingernails a bit longer if we had taken a few chances earlier in the game."
Galway made life hard for themselves in Letterkenny, according to Kevin Walsh.
"Sometimes you have to make your own luck and we're not getting much. Last week we were done by a double-bounce and a number of decisions went against us but hopefully down the line things might turn and we might just get a decision."
Things aren't going Declan Bonnar and Donegal's way at the moment.
"The big thing was for the younger players to be exposed to that kind of battle against a seasoned, experienced team. Division 1 football at its best, the learning and that for them is incalculable really."
Kerry manager Eamonn Fitzmaurice is happy with how his young players are adapting to senior football.
"We had three relatively scorable frees in that period which we didn't take and we had a goal chance cleared off the line. If we converted those chances alone we would have been able to ask further questions of the Kerry defence."
Fitzmaurice's Mayo counterpart Stephen Rochford bemoaned his team's wastefulness in front of the posts.
"We're used to situations like that and we handled it well. It was really good that we didn't do anything stupid and were able to hold it."
Malachy O'Rourke pointed to Monaghan's experience as a key factor in their one point victory over Kildare.
"Division One is a great test and battleground to see where you are at. At the moment, you have to be blunt and obvious and say we are still a little bit of that."
Cian O'Neill acknowledged that the Lilywhites are finding the going tough in the top flight.
"In the Tipp game last week and in the McGrath Cup (final) against Clare and in recent years, when teams were getting on top we were conceding big scores. The big difference today was that didn't happen and we got a foothold in the game again and tacked on a couple of scores and won it comfortably."
Cork secured their first league points under Ronan McCarthy with a six point win over Down.
"We've played the two promotion favourites now, Cork and Roscommon and we've been good enough to give them plenty to think about. We'd be happy that we'll hold our own in the division and that's what we intended to do coming up here."
Liam Kearns put a positive spin on Tipperary's defeat to Roscommon.
"I'm very pleased with that but it won't be papering over the cracks."
The Rossies left it late in Semple Stadium and Kevin McStay acknowledged that improvement is needed going forward.
"You can't sit back and say, 'I don't know if we're ready for it' - get up and try. I want these fellas playing the Kerrys and the Dublin and the Donegals of this world."
Promotion is a priority for Meath boss Andy McEntee.
Most Read Stories