Gerry Reilly Cup: Plate success for Louth
September 10, 2018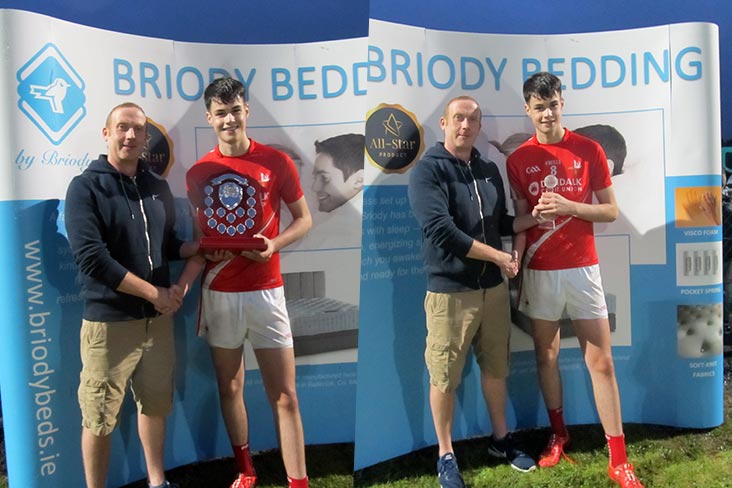 Martin Briody (Briody Bedding Limited - Sponsor) presents the Gerry Reilly Plate and Man of the Match Award to Louth captain, Conall McCaul
Louth 1-18 Longford 2-6
A terrific second half display saw Louth powering to victory over Longford in the Gerry Reilly Leinster U16 FT Plate Final played in Millbrook, Oldcastle on Saturday evening.
Conditions were not easy with light rain and gusty wind at times through out, but despite that we were treated to a great game of football.
Longford made a great start and were 3 points up (Jack Finn & Jack Duggan,2f) before Louth's opening score in the 6th minute from Tom Grey. Louth took the lead by the 15th minute with points from Ben Collier(2) & Craig Shevlin. Louth led by 0-6 to 0-4 before Aaron Smyth's goal regained the lead for Longford. Points were exchanged before the half to have Longford leading at the break by 1-5 to 0-7.

Louth had a dream start to the second half with 4 unanswered points before Longford's Ronan Sheehan's point.
Louth had a stronger blustery wind advantage now and went on to lead by 1-15 to 1-6, which included Conall McCaul's goal in the 40th minute.
Longford did have chances at this stage , but were off target with their attempts on goal.
Then Cathal Gilligan's goal turned out to be Longford's second score of the half which lifted their hopes, but the Louth defence held strong. Louth responded with 3 points from Tom Grey (1f) to give Louth a deserved victory.

Louth's Captain, Conall McCaul was presented with the 'Man of the match' award for his outstanding game by Martin Briody (Briody Bedding Limited - Sponsor).

Louth's Captain, Conall McCaul was also presented with the Gerry Reilly Leinster U16 FT Plate Trophy by Martin Briody (Briody Bedding Limited - Sponsor).

Scorers for Louth: Tom Grey (0-7,1f), Conall McCaul (1-4), Ben Collier (0-3), Craig Shevlin, Luke Mathews (f), Podge Downey (f)& Aaron Mills (0-1) each
Scorers for Longford: Jack Duggan (1-3,3f), Cathal Gilligan 1-1), Ronald Sheehan and Jack Finn (0-1) each

Louth: Jack Lynch(Naomh Martin), Aiden Grant (Roche Emmets), Evan Maher (St Kevin's), MJ Hanlon (Cooley Kickhams), James McDonnell (Roche Emmets), Daniel McArdle (St Brides), Patrick Murtagh (Kilkerley Emmets), Conall McCaul (St Josephs), Craig Shevlin (Dreadnots), Aaron Mills (St Patricks), Ben Collier (St Josephs), Podge Downey (St Nicholas), Thomas Rice (Sean O Mahonys), Luke Matthews (St Marys), Tom Grey (Naomh Martin). Subs: Ben Smyth (O Raghallaighs) for Downey, Ewan Sweeney (O Raghallaighs) for Rice, Niall Brady (Cooley Kickams) for Lynch, Peter Meegan (St Fechins) for Mills, Aaron Lawlor (O Raghallaighs) for Maher, Peter Lynch (Roche Emmets) for McDonnell

Longford: Conor Skelly (Cashel), Brian Casey (Rathcline), Darren Moffett (Emmet Óg), Aaron Smyth (St. Marys), Diarmuid Kelly (Carrickedmond), Conor Leonard (St. Columbas), Daniel Kurkin (Longford Slashers), Seán O'Sullivan (Sean Connollys), Richard Prior (Rathcline), Aaron Farrell (Dromard), Keelan McGann (Kenagh), Cathal Gilligan (Abbeylara), Ronan Sheehan (Longford Slashers), Jack Duggan (Clonguish) Séadhna Ryan Rathcline, Jack Finn (Grattan Óg)
Subs: Brian Masterson (Abbeylara) for Finn, Cian McGuinness (Longford Slashers) for Casey, Sean McCormack (Carrickedmond) for Hanlon, Cian McGuinness (Longford Slashers) for Prior, Mark Mc Nerney (St. Columbas) for Kurkin, Cian O'Reilly (Abbeylara) for Farrell, Matthew Shaughnessy (Mostrim) for McGann

Referee: Cormac Reilly (Meath)
Most Read Stories