HL3A/3B results
February 17, 2019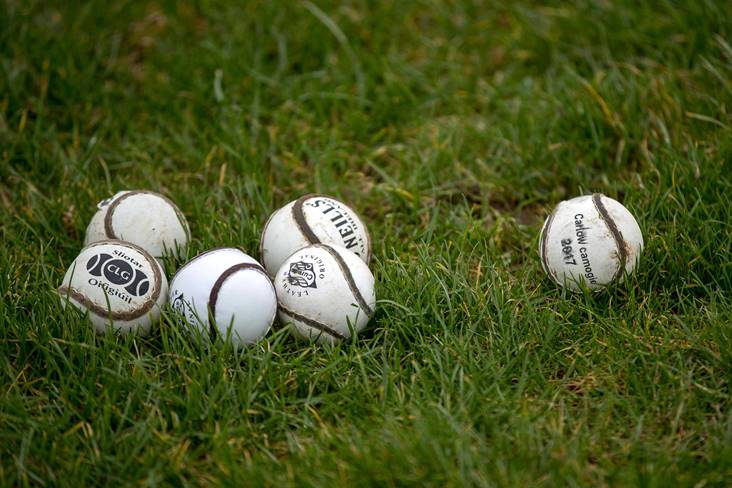 A view of sliotars. ©INPHO/Morgan Treacy.
Here are the results from today's Allianz HL Division 3A and 3B round 3 fixtures…
Allianz HL Division 3A round 3

At the Athletic Grounds
Roscommon 0-18
Armagh 1-11
At Healy Park
Monaghan 4-12
Tyrone 2-13
Allianz HL Division 3B round 3
At Pearse Park
Longford 2-18
Leitrim 0-16
At Kent Park
Sligo 4-19
Cavan 2-6
Roscommon - N Fallon; A Moore, P Nolan, P Kenny; C Coyle, E Flanagan (0-2, 1f), H Rooney (0-2); S Curley (0-2, 1f), D Heavey; C Dolan (0-6f), C Egan (0-2), P Kelly (0-3); G Egan, C Mulry (0-1), J Murray. Subs: E Kenny for J Murray, M Kellehan for P Kenny, J Murray for E Flanagan.
Armagh - F Woods; O Curry, A McGuinness, P Quinn; T Nevin, N Curry, D Bridges; C Rice, S Toal; D McKenna, R Fullerton (0-9f), S Renaghan; D Magee (1-2), E McGuinness, D Gaffney. Subs: B Shortt for S Toal, P McGrane for D McKenna, O McCann for D Bridges, G McKeown for C Rice.
Referee - C Mooney.
**
Monaghan - P Bermingham; C Merrick, J Guinan, P McKenna; S Lambe (2-1), E Collins, C McKennap; C Gernon, K Crawley; M Treanor (1-1), P McGahon, P Treanor (1-1); C McNally, T Campbell, F Rafter (0-8f). Subs: C Power (0-1) for C McGahon, C Callan for C McNally, S McNally for C Gernon, G Brennan for P McKenna.
Tyrone - C McElhatton; R Devlin, M Winters, J Kerr; S Muldoon, C Kearns, D Begley (0-1); R McKernan (0-1), C McNally; C Lagan, C Cross, T Morgan (0-1); M Mulgrew (0-2), D Casey (1-7, 0-3f, 0-1'65), B McGurk (1-1). Subs: D Refferty for R Devlin, L Devlin for S Muldoon, B Gormley for C Lagan.
Referee - J Connors.
**
Longford - E Daly; P Corcoran, G Moore, J Casey; B Hanley (0-1), K Murray, P Leonard; P Barden, D Buckley (0-1); S O'Brien, E Naughton (0-4), C Kavanagh (0-4); R Murray (1-0), C Mullane (1-8, 0-6f), J Mulhern. Subs: D Connell for P Leonard, E Tully for J Mulhern, M Devloin for S O'Brien, M O'Donohue for E Naughton.
Leitrim - D Molloy; P Earley, N McLoughlin, D Kelleher; E Moreton, K McDermott (0-2), D McGovern; L Moreton, C O'Donovan (0-3); B Murray (0-3, 1pen), C Moreton (0-1), K Clerkin; G O'Hagan (0-5, 3f), P McWeeney (0-1), S Goldrick. Subs: K McGrath (0-1) for P Earley, C Mallon for D McGovern, A McDermott for K Clerkin, G O'Brien for S Goldrick.
Referee - J Clarke.
**
Sligo - K Brennan; D Keown, J Weir, T Brennan; G O'Kelly Lynch (0-4), L Reidy, K Banks; R Cox, B Shannon; G Cadden, K Prior (0-2), E Comerford (0-9f); J Starr (0-1), K Raymond (3-2, 1-0pen), K O'Kennedy (0-1). Subs: N Feehily for D Keown, K Gilmartin (1-0) for G Cadden, T O'Kelly Lynch for E Comerford, R Brennan for K O'Kennedy, C Jordan for T Brennan.
Cavan - D Sheridan; M Moffett, M Hayes, D Brady; R O'Hagan, A Sheridan, C Kelly; P Sheridan, J Sheanon (0-4, 3f); D Carney, K Conneely, E Hill; C Carney (0-2), H Briody (2-0), D O'Reilly. Subs: N Neary for R O'Hagan, E Shalvey for E Hill, J Barry for D O'Reilly, J Carney for H Briody.
Referee - A Ferguson.
Most Read Stories