LGFA confirm arrangements for All-Ireland intermediate and senior semi-finals
August 10, 2018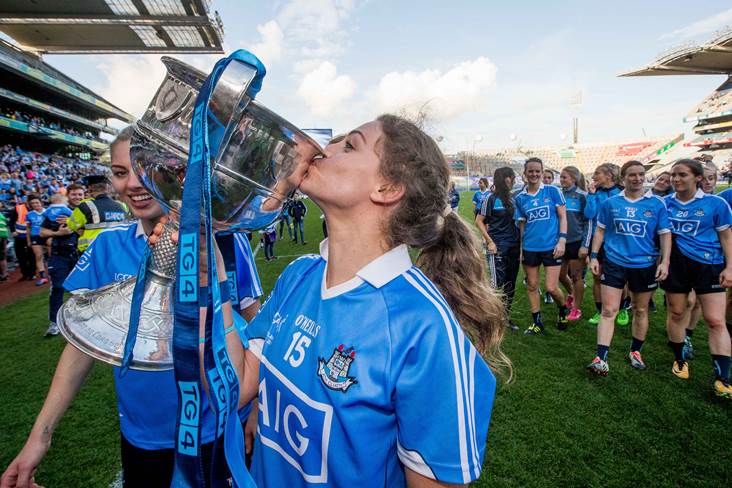 Dublin's Noelle Healy kisses the Brendan Martin Cup.
©INPHO/Morgan Treacy.
THE Ladies Gaelic Football Association can confirm the following arrangements for the forthcoming TG4 All-Ireland intermediate and senior semi-finals.
Tyrone will play Sligo in the first of the 2018 TG4 All-Ireland intermediate semi-finals on Saturday, August 18.
A week later, Saturday August 25 at 1pm, the second intermediate semi-final will be played, featuring the winners of the Clare v Meath and Roscommon v Laois quarter-final fixtures, which are down for decision tomorrow (August 11).
The LGFA is also in a position to confirm that both senior championship semi-finals will now be played on Saturday, August 25 at 2.45pm and 4.30pm.
Cork will play Donegal at 2.45pm and the winners of the remaining quarter-final fixtures - Dublin v Kerry and Galway v Mayo - will feature in the other semi-final at4.30pm.
The LGFA flagged the potential of a dual clash involving Cork a number of weeks ago, and that came to pass when the county's footballers qualified for the All-Ireland semi-final, which was scheduled for August 18.
In light of this, the LGFA carefully reviewed arrangements and worked extremely hard behind the scenes in recent days to find a compromise. 
LGFA CEO Helen O'Rourke commented: "We announced the times and dates of our summer fixtures schedule last March, when it was clearly stated that our All-Ireland senior semi-finals would be played on August 18 and August 25.
"We stated at the time that finding suitable times for our televised fixtures proved extremely challenging, and that we felt restricted to a large degree, due to the GAA's new, condensed fixtures schedule.
"When Cork qualified for the TG4 All-Ireland senior semi-final last weekend, a dual fixtures clash arose but, as an Association, we took it upon ourselves to find a solution suitable to all parties.
"It should be noted at this point that altering a fixtures schedule so late in the season has a significant knock-on effect and impact on club and county players in other counties, and that we had to negotiate a number of logistical and contractual issues on this occasion before arriving at this solution.
"It should also be pointed out that personal plans relating to some individuals, around previously confirmed holiday arrangements and family occasions, were also considered and factored into exhaustive discussions with various stakeholders.
"We would like to thank Donegal for agreeing to play their semi-final a week later, on August 25, and to our championship sponsors and broadcast partners TG4, who have had to revise a number of plans to accommodate this change.
"We would like to wish all of our counties competing in the senior, intermediate and junior championships the very best of luck for the remainder of their respective campaigns, and we look forward to seeing big crowds present for the games between now and finals day on September 16 at Croke Park."
Follow this weekend's All-Ireland SFC and MFC semi-finals on the hoganstand.com live match tracker.
Most Read Stories