Ladies NFL Div 3: Royals back on track
February 25, 2018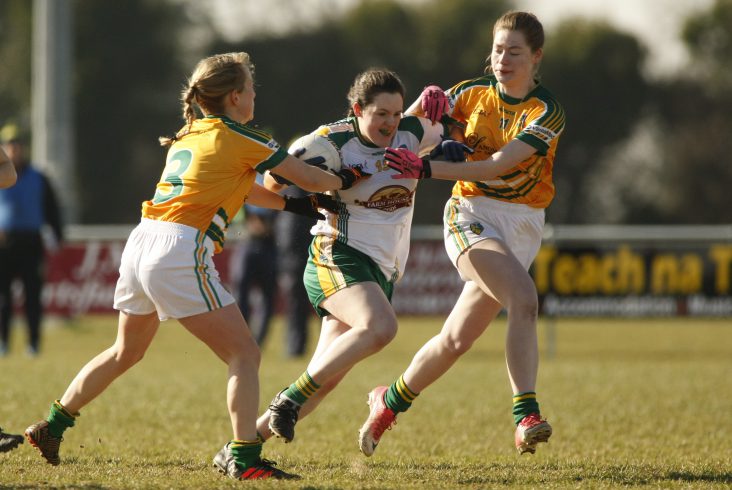 Meath's Niamh Gallogly with Clare Owens and Emma Quinn Leitrim during the Ladies NFL Division 3 clash at Dunganny
Meath 7-29 Leitrim 2-5
Meath demands. And Meath gets. Roscommon asked last week's questions and Meath responded v Leitrim this week. In style! Seven starting changes proves that the management didn't pay lip service to the panel. If you are on the panel, you punch your weight. Today was the day those that sit and watch got to play. And boy did they perform. A tricky cross field wind at Dunganny didn't suit either side, however whilst the wind was biting, it wasn't defining.
From the first whistle, the twin terriers of Megan Thynne and Stacey Grimes played havoc with Leitrims defensive set up. Quick inter- passing sprinkled with raking foot passes tore holes in the Westerners rearguard. The inside line of Laura Dempsey, Niamh Gallogly along with Marion Farrelly became the target for the clever interplay. Niamh O Sullivan with her clever running and support coming from the off the  shoulder diagonal running by the Meath half back line, was the indicator that last week's loss was to be rinsed from the collective.
Leitrim tried hard. Indeed every score that Meath garnered was contested by fierce defensive work by the Leitrim girls; no one strolled through, no soft concession by their keeper. Often a final score doesn't reflect the nuts and bolts of a match. This game being one of them! Honest endeavor by Leitrim was matched and surpassed by a faster, fitter sleek Meath outfit who made each pass count. Time and time again both Thynne and Grimes picked holes in their opponents' rear guard. Time and time again, their team mates read their intentions with devastating results.
The defense in match reports tend to be the unsung heroes. Orlagh Lally encapsulated Meath defenders, alert to the incoming ball, intercepting and sweeping before any damage was done. Midfield with Maire O Shaughnessy not starting and with Michelle Peel in her place, once more became the bulwark. Emma Troy and Karley Leavy burst forward when needed. Shauna Ennis held the middle, Siofra Cleary displayed blinding pace. Katie Newe dovetailed with the rest.
Seven changes from the Roscommon match, seven half time changes confirmed that the panel was a working group. The half time team talk focused on simplicity. The clock being reset to 0-0 each, a new half to be won. The new girls quickly got down to work. But Leitrim also posed a few questions. As the Meath replacements settled in, Leitrim threw over a few points. Then Meath clicked again. No showboating. But each girl putting up the hand saying "I'm here to do business". Laura Dempsey drove in a goal, the understated Emma White, just on, nicked a goal and point. The interesting thing being with the first half leaders gone off, new leaders emerged. And Meath had the luxury of keeping Vikki Wall and Aoibhin Cleary in reserve.
Whilst the score line appears academic and indicates some difference, the Meath ladies know that they were given an honest hours toil. This was no cakewalk; this was a game that required a bit of chiseling. Next week brings a new challenge. This game now goes to the statistical analytical outfits. But next week will be met in the knowledge that the Royal playing pool has been deepened and tested. That's what all good managers aspire to do. Often we take results for granted. Sometimes we forget the risk and bravery needed to ensure all involved are challenged. Hats off to the Meath collective here!
So three more points in the bag. Next up are Kildare, awaiting are Wexford and Offaly. Would the warriors want it any other way? This is what makes great teams. The performance v Leitrim reestablished the core beliefs, all for one and one for all. Simple football is actually the most difficult to achieve. Meath did that on Sunday. On they go to the next challenge.
Meath scorers: Marion Farrelly 2-4, L Dempsey 2-3, S Grimes 1-4, N O Sullivan 1-3, E White 1-1, M Thynne 0-3, M Downey 0-3, N Gallogly 0-2, K Leavy, S Ennis, E Troy, S Powderly and a Leahy 0-1 each.
Meath: Laurie McLean, Katie Newe, Orlagh Lally, Siofra Cleary, Karley Leavey, Shauna Ennis, Emma Troy, Kate Byrne, Michelle Peel, Megan Thynne, Stacey Grimes, Niamh O'Sullivan (captain) Marion Farrelly, Laura Dempsey, Niamh Gallogly. Subs: Niamh Lister for Newe, Katie Bellew for Lally, Sarah Powderly for Troy, Maire O'Shaughnessy for Kate Byrne, Meabh Downey for Grimes, Bláthnaid Keogh and Aoibheann  Leahy for Peel.
Leitrim: Michelle Hackett, Sarah Quinn, Clare Owens, Patricia Forde, Aisling Quinn, Aine Heslin, Melissa Hewitt, Laura O'Dowd, Michelle Heslin, Carla LeGuen, Emma Quinn, Sorcha Flanagan, Caoimhe Quinn, Alison McKeon, Ciara McLoughlin.
Referee: Paul Burke - Louth
Most Read Stories