LGFA and TG4 announce Facebook 'LIVE from the Red Carpet' All-Stars programme
November 23, 2017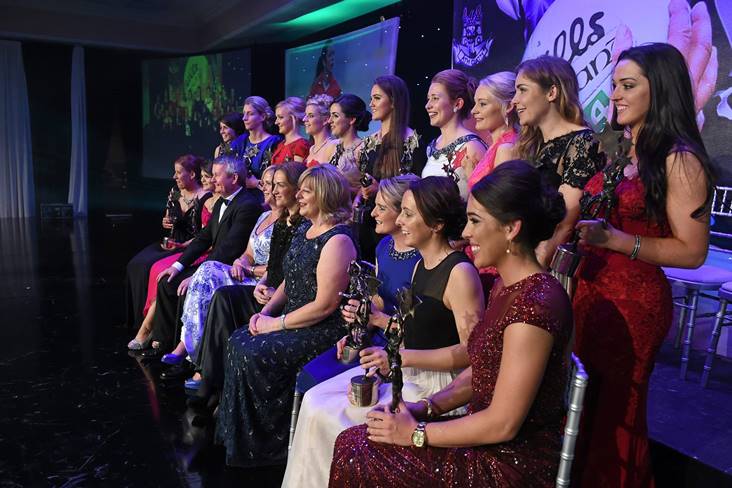 The TG4 LGFA All Star awards ©LGFA
The Ladies Gaelic Football Association and championship sponsors TG4 are pleased to announce a special Facebook 'LIVE from the Red Carpet' programme, which will broadcast from the Citywest Hotel on Saturday evening, November 25.
Viewers can tune in for a series of exclusive interviews with players and officials ahead of the 2017 TG4 All-Star banquet.
The event will be streamed live and simultaneously on both the Ladies Gaelic Football and Spórt TG4 Facebook pages from 6.30pm.
Gráinne McElwain is your host for 'LIVE from the Red Carpet' as we check in with presenters Marty Morrissey and Dáithí Ó Sé before they go on stage to host the TG4 All-Star gala bash from 7.30pm.
'LIVE from the Red Carpet' will also feature interviews from some of the country's leading players nominated for prestigious TG4 All-Star awards.
The winners of the 2017 TG4 All-Star awards will be announced later in the evening, along with the Players' Player of the Year recipients in the junior, intermediate and senior grades.
Leascheannasaí TG4, Pádhraic Ó Ciardha, says the station is delighted to be showcasing the red carpet glamour at Saturday's All-Star banquet.
He commented: "After a wonderful season of football, the annual All-Stars is always a glittering occasion, where the players and their friends bring us a different kind of style.
"The red carpet suits all county colours!"
LGFA CEO Helen O'Rourke said: "We are delighted to partner with our championship sponsors TG4 to bring viewers a flavour of All-Star night.
"This event recognises the cream of our inter-county talent, and this live event brings a new edge and innovation to our celebrations."   
The Spórt TG4 Facebook page can be accessed here: https://www.facebook.com/SportTG4/
And you can find the Ladies Gaelic Football Association page here: https://www.facebook.com/LadiesGaelicFootball/
Most Read Stories