What they said ... the weekend in quotes
December 17, 2018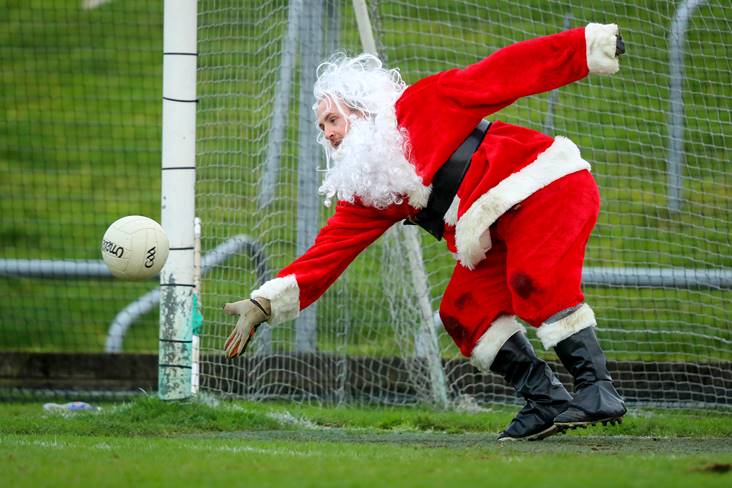 Santa Claus saves a penalty during a shoot-out at half-time of the Sean Cox Fundraiser SF Challenge between Meath and Dublin at Pairc Tailteann, Navan. ©INPHO/Oisin Keniry.
"We seem to just bow down to certain pundits."
Armagh played under the experimental rules yesterday and Kieran McGeeney isn't a fan.
"Conditions were difficult, but I felt it made things much more stop-start, there were more turnovers in possession in comparison to the game we normally play."
Fermanagh boss Rory Gallagher echoed McGeeney's sentiments.
"Adaptable players and good coaching together will lead to new developments in the game. It'll just take some time to acclimatise to them so, after three sessions, the way that we did that was impressive."
The rules posed no problems for Cian O'Neill and Kildare against Carlow.
"I think these rules have to go lads, being honest with you. It's not good for the game. I'm not against change and I think a very simple change... people are concerned about defensive football and lack of space – make it 13-a-side and try that."
Barrowsiders boss Turlough O'Brien put forward an alternative solution to combatting defensive football.
"I was really happy with how they performed there tonight – particularly the lads who came off the bench. They were given a role and they seemed to carry out instructions to the letter of the law."
Padraic Davis was happy with his team's one point O'Byrne Cup win over Meath on Saturday evening.
"We said it would be a good opportunity to raise a few quid."
The large crowd that turned out for the Sean Cox fundraiser in Pairc Tailteann witnessed Andy McEntee's Meath side defeat Dublin by two points.
"A good honest effort from all the lads. In general they were trying to do the right thing with the ball most of the times and set up some nice scoring opportunities."
Dublin's performance in their Walsh Cup clash with Offaly pleased Mattie Kenny.
"Despite recent commentary, I see the setting up of the Pairc Ui Chaoimh board of directors and our commercial agreement with Croke Park as hugely positive steps and I am looking forward to the first full year operation of the new company."
Cork chairperson Tracey Kennedy played down fears about the over run on spending on the Pairc Ui Chaoimh development at Saturday night's annual convention.
"I had the privilege in 1976, '77 and '78 of being a selector on the Cork All-Ireland winning hurling teams. But most notably, had the privilege of experiencing the vitality, brilliance and determination to win of the master himself, Christy Ring. He was as amazing in the dressing room as he was on the field of play."
Frank Murphy stepped down as Rebel County secretary after 46 years in the role.
"He represented his county and his country with great distinction so it was an easy enough choice for me when it came to asking someone to be involved. Benny was the man I wanted and I'm delighted he's here."
New Down manager Paddy Tally is delighted to have Benny Coulter as part of his backroom team.
Most Read Stories