What they said … the weekend in quotes
December 04, 2017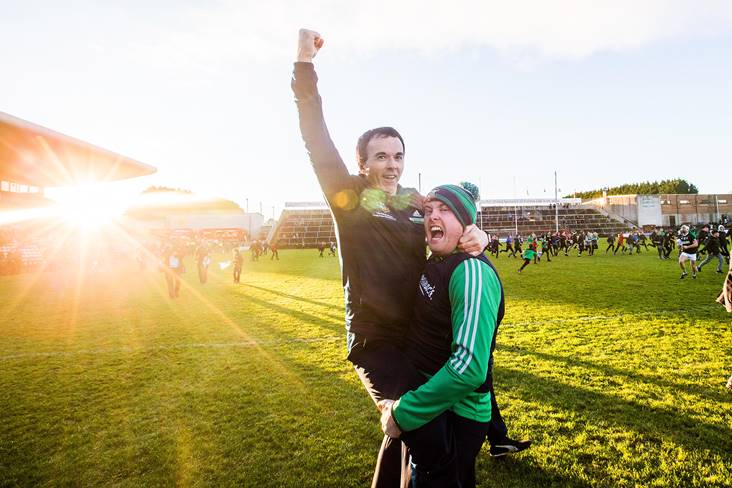 Liam Mellows manager Louis Mulqueen celebrates with selector Paul Mitchell after their side's Galway SHC final victory over Gort at Pearse Stadium, Salthill.
©INPHO/Tommy Dickson.
"Getting a Galway county title medal is like hen's teeth. The likes of Aonghus (Callanan) and David (Collins). It was their one shot, one chance and they had to take it. Fair play, both of them stood up as leaders on the pitch with everybody else out there."
Clare native Louis Mulqueen mastermined Liam Mellows' first Galway SHC success in 47 years.
"I can't say enough about the management team, the effort and the commitment they have to this and I can't say enough about the players. They're such a grounded, self-driven, ambitious group of lads and we're very proud of them. They have given a very good performance again here today."
Cuala continued their winning ways under Mattie Kenny against Kilcormac/Killoughey.
"We looked over their past results in Leinster and they had only conceded an average of 14 points. When you're playing a defensive team, it's very important to get a good start. We did that - 1-8 without reply - that set us up nicely. It meant they had to come out and play a bit more, which suited us."
Victorious captain Paul Schutte revealed how Cuala's game plan worked a treat.
"Never before did a team put us under such pressure, but we showed real character to survive. Glenealy were terrific. They out-hurled us at times. They were an absolute credit to Wicklow."
Jim Lyng's Ballyragget survived a major scare against Glenealy in Saturday's Leinster Club IHC decider.
"I'm relieved it wasn't a draw, but today's not about me, it's about Carnacon and the girls and winning our sixth All Ireland."
With a sixth All-Ireland club medal in the bag, Mayo legend Cora Staunton will board a plane for Australia tomorrow.
"I'm excited for the players - I'm there to serve them. Myself, my management team, my backroom team - I'm really lucky to have some great people there and they're all there to help the players to be their very best. After the game, it is all about the players. It's not about me."
A player-centred approach is a cornerstone of Jim Gavin's management philosophy.
"We've heard gunshots over the past few days and bombs going off and you look around and people don't flinch here whereas we're running scared, and rightly so. It's scary to think that this is normal life for them. How can normal life be gunfire and bombs going off within a couple of hundred yards of you? That's not real life in my book anyway."
Unicef Ireland goodwill ambassador Joe Canning's trip to Aleppo put life into perspective.
"They've been criticised for paying competitive salaries to their staff, but why are the GPA being singled out? There are people being paid in the GAA at all levels. Nobody ever questions this, or the various rates, but the GPA is fair game? That's not right. If I had to use one word to describe the GPA, I'd go for 'supportive'."
Wexford star Lee Chin defended the GPA from recent criticism.
Most Read Stories