Handball: 'I'm not long back from sea with the Navy'
October 06, 2015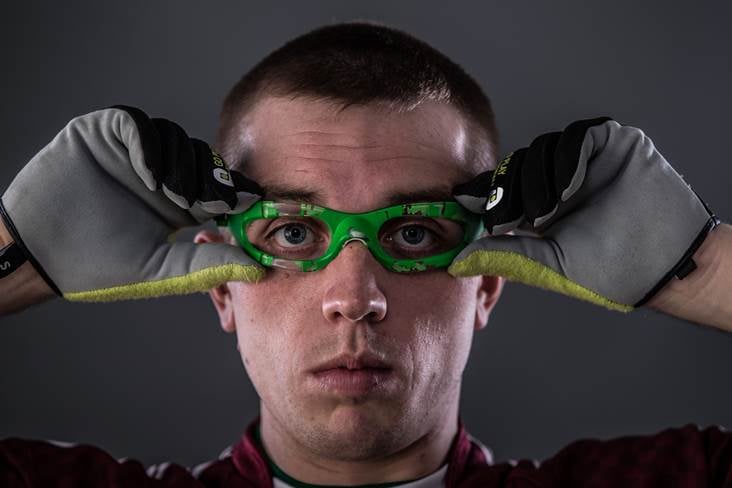 Westmeath's Robbie McCarthy
Rewind 12 months to the first game in the 2014 All-Ireland 60x30 Senior Singles Final. Westmeath's Robbie McCarthy delivered an absolute exhibition of 60x30 Handball against Eoin Kennedy. His court coverage, his silky soft touches into both corners, he looked irresistible as he cruised to a 21-5 win.
No one in the crowd predicted what happened next, how could they, as the vastly experienced Dubliner turned the game on its head to oust the reigning champion and win back the title he last held in 2010.
But that was last year, and McCarthy is determined to avenge the defeat. The Mullingar man admits he will learn from last year, and will ensure it wont be repeated on Saturday.
'Last year I got a bit sidetracked after winning the first 21-3. I didn't keep going at the same pace and Eoin got on top of me too, playing more pressuring shots.'
'If I keep focused, I know I have the game to cause Eoin trouble.'
Since last year's showdown, McCarthy has joined the Irish Navy, which has had implications of his training, but he is adapting well and admits he is 'happy and raring to go!'
'I have got a lot of training in, a lot of fitness work, especially with the training before the Worlds. I'm not long back from sea with the Navy, but I have got plenty of ball work in so am looking forward to the challenge Saturday presents.'
When asked about his opponent, McCarthy only had kind words and acknowledges the rivalry both men have developed over the last seven years has only spurred them both on and made them better players.
'Inside the court we don't get on, obviously no one does when they are rivals, but outside the court he is a gentleman.'
"Eoin is always my biggest challenge in the 60x30 each year, he is a fierce competitor and I know I have to raise my game to beat him.'
McCarthy has not had ideal preparation in the lead up to the final, having only one competitive Championship match this year after receiving two byes in the Singles, and not playing in the Doubles. His only encounter was a cagey 21-20, 21-5 QF win over Limerick's CJ Fitzpatrick.
'I would rather play the games, but I cant do anything about that. It's not the ideal preparation, but I have no control over that, I just get on with it, get it out of my head.'
'The aim at the start of the year was to win the 40x20 All-Ireland, then the Worlds, then try to take back the 60x30 title. I am one step away from that now and I am going all out to win back my title!'
MyClubShop.ie All-Ireland 60x30 Championship Finals: Saturday 10th October in Abbeylara, Longford

• 12noon MS Final: Mayo (Niall Joyce) v Kilkenny (Shane Dunne)
• 1.00pm ID Final: Galway (Ollie Conway/Martin Mulkerrins) v Wexford (Mick & Jim Berry)
• 2.00pm MSS Final: Westmeath (Robbie McCarthy) v Dublin (Eoin Kennedy)

Tickets available from the GAA Handball Office - Phone 01 8192385: Adult - €20, Students/Juveniles/OAP - €10
Most Read Stories