Handball: Brady goes for 5 in Worlds final but can a young Corkman stop him?
August 21, 2015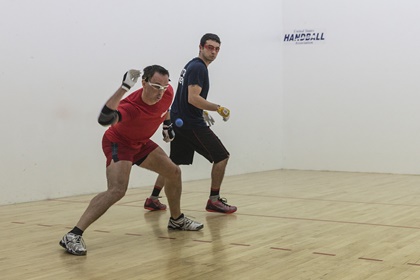 Paul Brady up against Luis Moreno
by Paul Fitzpatrick
After a tumultuous nine days at the World Handball Championships in Calgary, Canada, the smoke has cleared and two men are left standing.
In the blue corner is Cavan's four-time defending Open Singles champion Paul Brady; in the red, Killian Carroll, the young pretender from Cork.
Brady has pounded his way to the decider by pummelling all before him, culminating with a one-sided demolition job on Team Ireland captain Robbie McCarthy last evening.
Carroll, smaller in stature, plays a different game to Brady's explosive style; the young Cork sensation relies on speed and incredible retrieving ability and is more a hustler than a heavy-handed, knock-out artist.
The pair have gone toe to toe before - Brady beat Carroll, then  a schoolboy, at the 2012 Worlds in Dublin and sent out a real statement when easily dismissing him at the 2014 US Nationals in Minneapolis, but the youngster continues to improve.
Neutrals will hope that their lines meet somewhere on the graph but while Brady may not be the force he was in his prime years - what 35-year-old athlete is? - there are no significant signs of slippage from the champion.
Brady has yet to really crank up his serve on the fast Canadian courts and looked to be taking a few MPH off that weapon in favour of accuracy against McCarthy.
A noted front-runner, he will be expected to come out shooting, to look to send Carroll into a retreat under heavy shelling.
Carroll struggled against the powerful Luis Moreno of Arizona in the first game of their quarter-final on Wednesday, dropping it 21-7, but he weathered the storm and showed he is made of stern stuff.
Stage fright should not be a problem for the younger man; history tells us that Brady rarely under-performs in big games either. Therefore, a huge battle is likely.
Could there be a changing of the guard? Everything will have to go Carroll's wa y -he must make a high percentage of his kills and get his first serve in, early and often.
Brady, with his unparalelled bank of experience and that priceless knowledge of exactly what it takes to get over the line, is the safer bet to still be wearing the crown by nightfall.
But a thriller, in the shade of the Rockies, is possible. You can watch it live at 6pm (Irish time) as it will be streamed live and free at www.race4eight.com
Meanwhile, on the undercard, Antrim's Aisling Reilly meets Cork's Cathriona Casey in the ladies decider in another mouthwatering clash of styles.
Theirs is the most engaging rivalry in the sport at present and pits Reilly's power against Casey's methodical percentage play. It's a pick 'em.
TALE OF THE TAPE
Paul Brady
Club: Kingscourt, Co Cavan
Age: 35
Dominant hand: Right
Height: 5ft 10
Occupation: Schoolteacher
Path to the final:
Dft Ryan Pesch 21-3, 21-5
Dft Niall O'Connor 21-2, 21-4
Dft Charly Shanks 21-9, 21-18
Dft Robbie McCarthy 21-12, 21-7
Honours: Four-time World Open Singles champion, 10 x US Nationals, 10 x All-Ireland Senior Singles, 10 x All-Ireland Senior Doubles, one world Open Doubles
Killian Carroll
Club: Mallow, Co Cork
Age: 21
Dominant hand: Right
Height: 5ft 7
Occupation: Student
Path to the final:
Dft Loren Collado  21-7, 21-3
Dft Martin Mulkerrins 21-19, 21-13
Dft Luis Moreno 7-21, 21-9, 11-9
Dft Diarmaid Nash 21-13, 21-19
Honours: All-Ireland Minor Singles, World 19 and Under Singles, Irish Nationals Open Singles, Canadian Nationals Open Singles, Boston Open champion
Most Read Stories