The master takes on the young pretender
August 21, 2015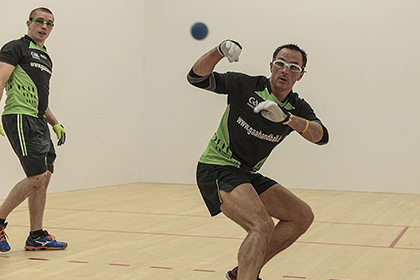 Cavan's Paul Brady
Defending world handball champion, Cavan's Paul Brady, will face young-gun, Cork's Killian Carroll in the Men's Open final at the University of Calgary today (Friday).
Brady defeated Westmeath's Robbie McCarthy 21-12, 21-7 in the semi-final and continues his bid for an incredible fifth consecutive Men's Open World Handball title. His final opponent, Carroll, who was based in Boston ahead of these championships, had a tougher semi-final task against Clare's Diarmaid Nash. Carroll eventually fought off the banner mans's challenge with a 21-13, 21-19 to confirm his first ever World Men's Open final appearance.
In his semi-final, Brady appeared under pressure early in the opening stages, but he battled back and the pair were level at 4-4 before the Cavan man raced into top gear. Following a time-out, the defending champion stormed to a 17-5 lead and despite a late rally from McCarthy, he finished out the first game 21-12. Brady dominated the second game from start to finish, with the Mullingar opponent unable to contend with his power and clinical finishing. The 35-year-old finished off the game at 21-7 to book a place in his fifth consecutive Men's Open world title.
Meanwhile, in the Ladies Open, Cork's Catriona Casey and Antrim's Aisling Reilly will renew rivalries once more, with both players reaching their expected final destination. Casey and Reilly have served up some thrilling battles in recent years and this World Championship final is likely to feature some heated exchanges. In the Men's Open Doubles final, Mayo's Joe McCann and Roscommon's Rikki O'Gara will take on both defeated singles semi-finalists, McCarthy and Nash.
The finals begin at 5pm Irish time, and will be broadcast live on www.wphlive.tv.
Most Read Stories