What they said … the weekend in quotes
April 08, 2019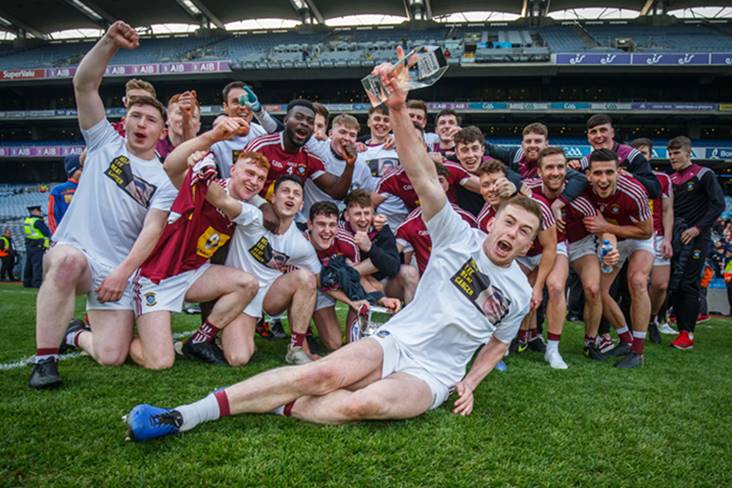 Westmeath players celebrate after the Allianz FL Division 3 final victory over Laois at Croke Park. ©INPHO/Oisin Keniry.
"There's a guy at home, Kieran O'Connor from Aghada and he's going through an enormous battle and just to let him know that we are thinking of him. He played football for Cork. He gave his life to sport and he's a real fan of mine - this one's for Kieran."
In the midst of his Aintree Grand National winning celebrations, jockey Davy Russell dedicated Tiger Roll's success to fellow Cork man Kieran O'Connor.
"I'm in this job 18 months. Graham has come out north of 100 times. I think we conceded one in Leitrim last year, again an execution issue. That's the second one today. So of 100 patterns of play that he's been involved in, two goals is probably not a big return for the opposition. It's one goal, a fairly significant one but they're the margins you're playing with."
Laois manager John Sugrue won't be revoking goalkeeper Graham Brody's license to roam after he was caught off his line for Ger Egan's goal in Saturday's Allianz FL Division 3 decider.
"That performance, going forward I know the lads won't be happy with a lot of elements of it. That is the first thing we will be sitting down analysing for the championship."
Despite their three-point success, Westmeath boss Jack Cooney says they have a lot of improvement to make ahead of their championship campaign.
"Championship is going to be a different story. It will be all on the day in seven weeks' time, both teams will go and work hard so looking forward to that too. It's not going to be easy."
'Man-of-the-match' Ger Egan and his Lake County team-mates will renew acquaintances with the O'Moore County in the Leinster SFC.
"The big moments in the game went our way and it was a great collective performance. We are in heaven at the moment."
Former Fermanagh senior manager Dom Corrigan guided St Michael's Enniskillen to a breakthrough Hogan Cup success.
"Ultimately, the next big one for us is a Connacht title. We've probably let ourselves down the last three years in that competition and we're definitely targeting putting that right in 2019."
Jason Doherty and Mayo have switched their focus to the championship.
"They were missing a number of players, but I am delighted with the performance of our younger girls and this league has been very good for us in finding a number of new players. But we know the semi-final will be a totally different affair and they will be far stronger next day out."
Ephie Fitzgerald isn't reading too much into Cork's round 7 league win over Dublin ahead of a semi-final rematch.
"We don't like to lose any game and it always hurts when you do, so, yeah, we are hurting a bit now."
Fitzgerald's Dublin counterpart Mick Bohan will be hoping his team can make up for the disappointment in the upcoming last four encounter.
Most Read Stories