Tuam lock-out "ridiculous stuff"
November 28, 2017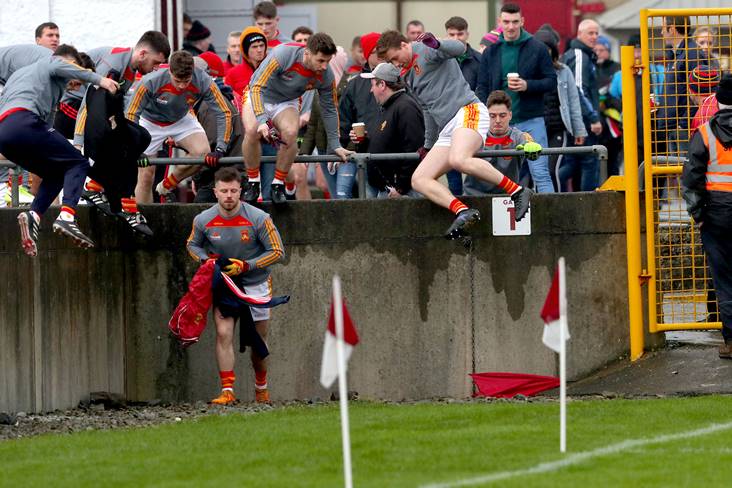 The Castlebar Mitchels players jump over the wall as the gate remains closed.
©INPHO/James Crombie.
Connacht GAA officials say they are trying to get to the bottom of why Castlebar Mitchels were forced to jump a wall to gain entry to the Tuam Stadium pitch last Sunday.
The gates were closed when the Mayo champions left their dressing-room to take the field against Corofin in the Connacht club SFC final, which the Galway side won by four points after extra time.
Speaking to the Irish Daily Star, Castlebar spokesman Nigel Quinn explained that they were denied access to the pitch by stewards over being four minutes for their warm-up and branded the whole fiasco as being "beyond a joke".
"Once the players were out there was no going back," said Quinn.
"We were told we could not enter the pitch until 20 minutes before the game. We were around four minutes early. They refused to open the gates. We were told we couldn't get out to put a cone on the pitch.
"It had gone beyond a joke then. It was ridiculous stuff."
Connacht secretary John Prenty told the Star that they had no complaint from Castlebar but said they were still "trying to get to the bottom" of the incident.
Most Read Stories