Flynn responds to O'Rourke's GPA salary criticism
November 29, 2017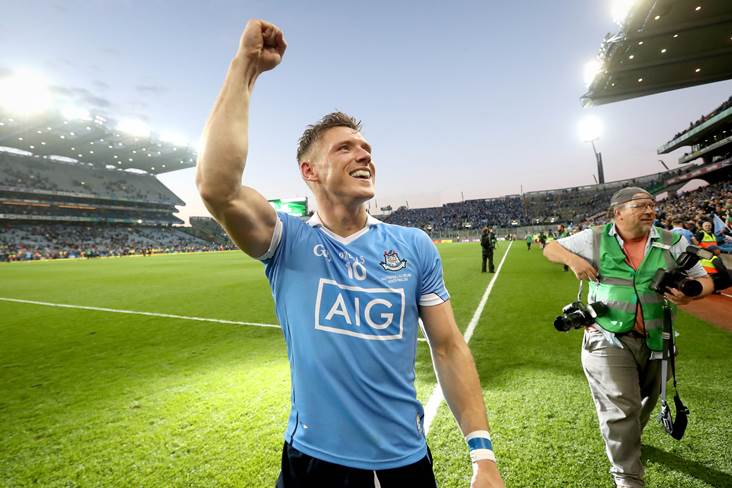 Dublin's Paul Flynn celebrates.
©INPHO/Ryan Byrne.
Dublin star Paul Flynn has hit back at Colm O'Rourke's criticism of the salaries paid to the GPA's staff.
The five-time All-Ireland winner is secretary of the players body and, speaking to The Irish Independent at the launch of the Coca-Cola HBC 2017 Designated Driver campaign, he took aim at the Meath great who recently highlighted in his Sunday Independent column that that average wages of 12 GPA employees is almost €77,000 per annum.
O'Rourke also highlighted that payments to 'key management' came in at €490,418 which shows a significant increase on the 2015 figure of €370,170.
"Every role in the GPA is benchmarked by an independent compensation benefits consultant who comes in, sizes a job and uses indicators to compare it on a like-for-like basis with a like-for-like job in a like-for-like organisation - i.e. a not for profit," Flynn revealed.
"The process internally then is; whatever way it is sized, to go below the average. Some companies will have let's say, 'we pay the upper-quartile of whatever it is benchmarked against'. So if the average is 100, we pay 125 or whatever it is, but internally (in the GPA) it's below the average."
The Fingallians clubman continued: "So when you go on a like-for-like basis, that's the way they are sized. So he's an independent guy, I won't say he doesn't care about the GPA but he doesn't care about the individuals on it and he's giving his objective opinion on which way these should be sized.
"That allows people on the board like myself or the wider NEC (National Executive Committee) which is made up of about 20 players, or whether it be the membership to stand over what the salaries are. That's just the nuts and bolts of it, that's the facts."
Most Read Stories