"Which of those teams would they have beaten?"
July 03, 2018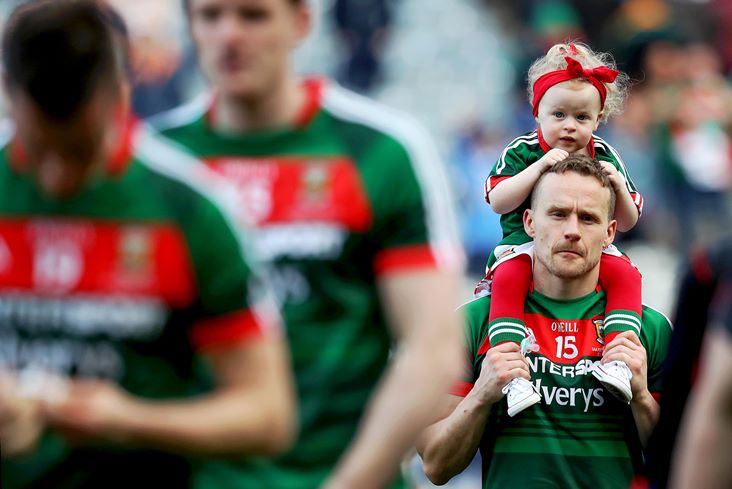 Mayo's Andy Moran with his daughter Charlotte at the end of the 2017 All-Ireland SFC final
Joe Brolly insists that the current Mayo team would not have been good enough to win an All-Ireland in any era.
Mayo have been one of the unluckiest sides in GAA history, suffering a series of near misses in the last six years. They lost All-Ireland finals in 2012, 2013, 2016 (after a replay) and 2017 as well as semi-final replays to the eventual winners in 2014 and 2015, the latter after extra time. The consensus is that they would have collected Sam Maguire in any other era but Derry legend Brolly disagrees:
"I don't think so because somebody always comes along," he told The Throw-In podcast. "That Mayo team certainly wouldn't have beaten the Derry team I played on. Kieran McKeever and Tony Scullion would have picked up Cillian O'Connor and Andy Moran.
"We would have had just too much power for them through the middle - they wouldn't have been able to deal with Anthony Tohill for example.
"If you go through the years, the Galway team which won two All-Irelands, the great Down team - I mean, which of those teams would they have beaten?
"That Down front six would have absolutely annihilated that Mayo defence. Particularly in and around their fullback area, James McCartan, Mickey Linden could have ripped them.
"The problem with Mayo is that they just haven't been good enough. I don't think it's a question of bad luck. They've had many, many, many opportunities and they just haven't been good enough."
Most Read Stories