GAA stars graduate from Jim Madden GPA Leadership Programme
December 01, 2017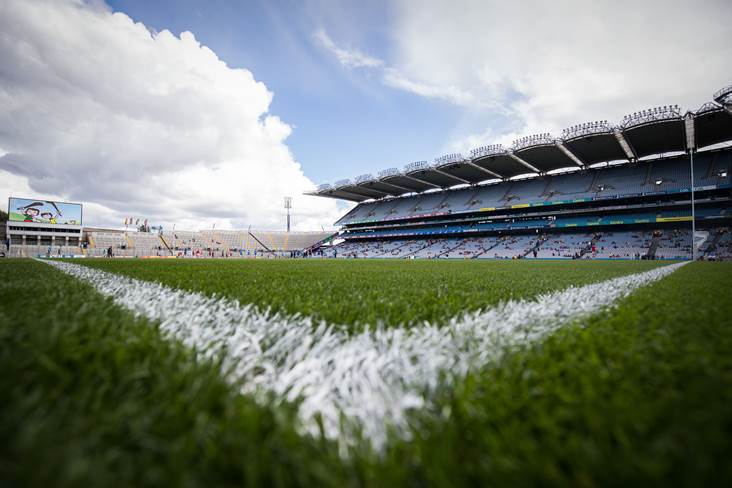 Croke Park will play host to two All-Ireland senior and minor football championship double-headers this weekend.
©INPHO/Oisin Keniry.
Ten of Ireland's finest male and female inter-county stars graduated from the Accreditation Pathway for the Jim Madden Leadership Gaelic Players Association (GPA) Programme at a special ceremony in Maynooth University today.
The programme is designed to develop crucial leadership skills among inter-county Gaelic football, hurling, ladies football and camogie players which they can draw on in their personal, sporting and professional lives as well as in their communities.
This is the first year that students from this programme have had access to formal accreditation via Maynooth University as part of the Programme and this year's graduates include many of the GAA's leading lights such as eight-time All-Ireland senior hurling medal winner Michael Fennelly, Waterford's three-time hurling All-Star Noel Connors as well as Mayo football duo Tom Parsons and Jason Doherty and Derry dual star Chrissy McKaigue.
The Jim Madden GPA Leadership Programme is individually tailored to athletes performing at an elite level, with each student working with a professional life coach, addressing their development needs and helping them reach their personal goals.
Those participating in the Maynooth accreditation pathway have access to academic staff and resources and qualification leads to the awarding of a Level 9 Postgraduate Certificate in Professional Leadership. As part of the accreditation pathway with Maynooth, university staff work with students to further develop their leadership capabilities and to explore the role of sustainable leadership within communities.
Students are required to engage with local communities through work with primary schools and youth sports organisations as part of the Réalta Programme while also taking part in workshops that focus on personal development, interpersonal and group skills in which they identify their strengths and weaknesses and find their own personal style of leadership.
Leadership masterclasses are provided in which students explore the critical behaviours, attributes and capabilities required to unlock their full potential as future leaders. These masterclasses are given by experts from the business and sporting world and community activists.
GPA CEO Dermot Earley said at today's graduation: "We are delighted with the continued success of the Jim Madden GPA Leadership Programme Accreditation Pathway. The young men and women graduating today have already demonstrated exceptional leadership qualities both on and off the pitch and we all look forward to seeing them carry that success forward into the future.
"We are also very pleased to be working with Maynooth University as part of the Accreditation Partnership between Maynooth and the GPA and it has allowed the Programme to offer students more benefits than ever before while receiving a qualification in professional leadership. This qualification will undoubtedly be helpful for these future leaders as they launch their careers and pursue further education. In fact, two course graduates have already embarked on a programme of doctoral studies at Maynooth University."
The 2016/2017 Graduates of the Jim Madden GPA Leadership Programme are:
Stacy Cannon (Kildare)
Michael Fennelly (Kilkenny)
Noel Connors (Waterford)
Anna Conlon (Leitrim)
Stephen McDonnell (Cork)
Lorcán McLoughlin (Cork)
Darragh Egan (Tipperary)
Tom Parsons (Mayo)
Jason Doherty (Mayo)
Chrissy McKaigue (Derry)
About the Jim Madden GPA Leadership Programme
The Programme was made possible by the support of Michael Madden and his family who dedicated the new curriculum to the memory of their late father, Jim, a tireless grassroots GAA and community activist in Tipperary. Jim was actively involved in the Portroe club all of his life and was a selector on the famous Tipperary three-in-a-row All Ireland winning camogie team of 1999 - 2001.
About the Gaelic Players Association
The GPA, the official representative body for inter-county hurlers and footballers, is a not-for-profit organisation that represents over 2,200 current players and an increasing number of past players. The Jim Madden GPA Leadership Programme is part of the GPA's Education Programme. Since 2010 the GPA has distributed over 3,000 education and training scholarships for players participating in undergraduate, post-graduate and further training programmes.
About Maynooth University
Maynooth University boasts a GAA playing population of 400 members across five clubs. The Maynooth University GAA scholarship has been running for nearly 20 years and includes recipients such as 2013 Footballer of the Year Michael Darragh Macauley and David McInerney, an All-Ireland SHC winner with Clare in 2013.
Most Read Stories