All-Ireland winning Kildare manager Davy Burke steps down from U20 post
October 23, 2018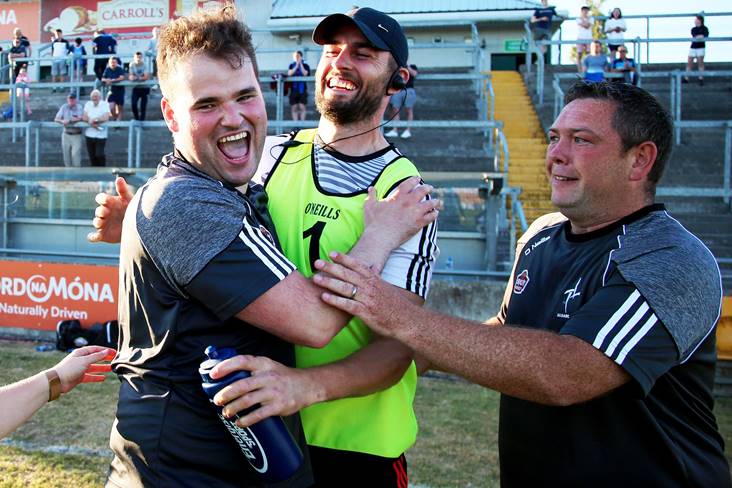 Kildare manager Davy Burke (left) celebrates.
©INPHO/Tommy Dickson.
by Paddy Hickey

All-Ireland-winning manager Davy Burke has stunned Kildare fans by stepping down from his role less than three months after leading the Lilywhites to the under-20 football title.
In the wake of Cian O'Neill being given the green light at the weekend to remain at the Kildare senior helm for a fourth year, Burke's decision is additionally dramatic and surprising as he was appointed to the under-age post only last November.
After succeeding Bryan Murphy in the hot seat last November, the new boss, who is only 30, guided his native county to this year's first-ever All-Ireland under-20 crown – the Lilywhites also won the under-21 title in 1965 - his charges beating Dublin in the Leinster final, Kerry at the All-Ireland semi-final stage and Mayo in the decider on August 5.

But in the wake of talks with Kildare Board officials over the last few weeks, and an additional meeting with Board chairman Ger Donnelly on Sunday last, the Confey clubman has decided to tender his resignation from the under-20 post.
"Basically my decision boiled down to me wanting to push on and progress, and I felt that opportunity was not available within Kildare at the moment", explained Burke, who underlined his commitment to the team boss role when, after getting married last May, postponing his honeymoon until after the All-Ireland final.
"I would see himself as very progressive and innovative with regard to the way I'd go about managing a football team but the Kildare Board and myself did not eye to eye in that regard.
"Even though we won the All-Ireland, there were a number of aspects relating to the team this year that I wasn't happy with.

"This is something that you could tolerate for one year but definitely not for a second year," added Burke whose own football career was cruelly ended by a torn cruciate ligament and a broken knee-cap when he was only 15.
But the former boss insisted that his momentous decision doesn't mean that he has lost his appetite and desire to maintain his involvement in football team management.
"I'm very keen to continue managing a team, whether it's inside or outside Kildare," he explained.
"And I expect that it won't be very long before I'll be linking u with some club or county team."
Boosting his future managerial prospects is the fact that he managed Confey senior footballers in 2016 and 2017 and won the club's first ever Division 1 League title and progressed to the Senior Championship Semi Final for the first time in north county club's history,
Currently, Burke is coaching the Maynooth University Sigerson Cup team and is really enjoying that level of football.
And despite his shock move from his native county, Burke says he hopes to become re-involved in some element of Kildare team management sometime in the future.
"I would be very driven and ambitious and I would be very keen to make the step up to senior inter county management should the right opportunity present itself," he pointed out regarding his future managerial career.
Most Read Stories