Dublin 'cuteness' irks Joyce
March 19, 2018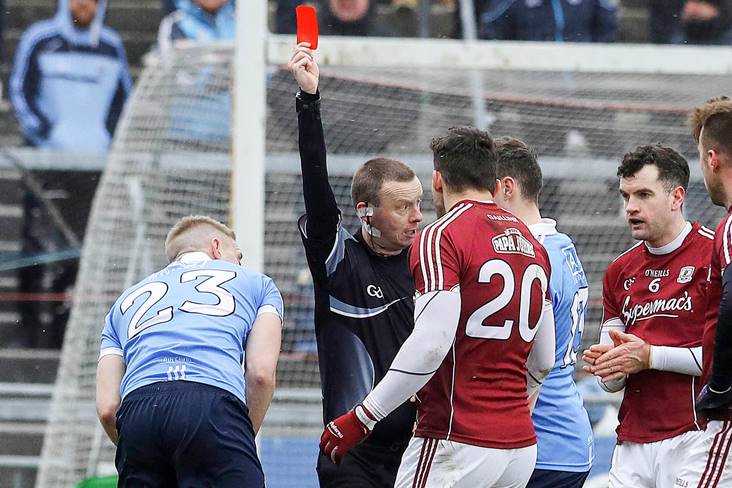 Dublin's Eoghan O'Gara is shown a red card by referee Joe McQuillan.
©INPHO/Lorraine O'Sullivan.
Padraic Joyce was critical of what he deemed as cynical play by Dublin during the closing stages of their drawn Allianz Football League encounter with Galway.
The Galway legend was unimpressed with the All-Ireland champions' attempts to disrupt the play and count down the clock before Galway eventually salvaged a draw thanks to Johnny Heaney's late, late equalising point.
During the course of his co-commentary for RTE Radio, Joyce also labelled the match officiating as 'farcical'.
He said: "Dublin did this in the football final last year against Mayo. Galway had the ball and they dived in, blocked off all the players and creating a melee. It's a bit of cuteness. Philly McMahon jumped 10 yards from the ground to the top of melee, two feet-ed so he'll probably get the red for this. Just slowing the game down...
"Ciaran Kilkenny has rugby tackled Damien Comer off the ball. Obviously, he knows Comer is Galway's only chance of getting a score. Right in front of the linesman and it is the second time he has done it in the space of two seconds. It should be a black card but look at, it is farcical officiating.
Joyce later added: "The Dublin players here are coming off the pitch, a few of them arguing with the crowd, Joe McQuillan is getting a garda escort here. The referee let a lot of the game develop that he shouldn't have. The linesman officiating, (it was) a lot of off the ball stuff."
Most Read Stories