Keane may open training to supporters
October 19, 2018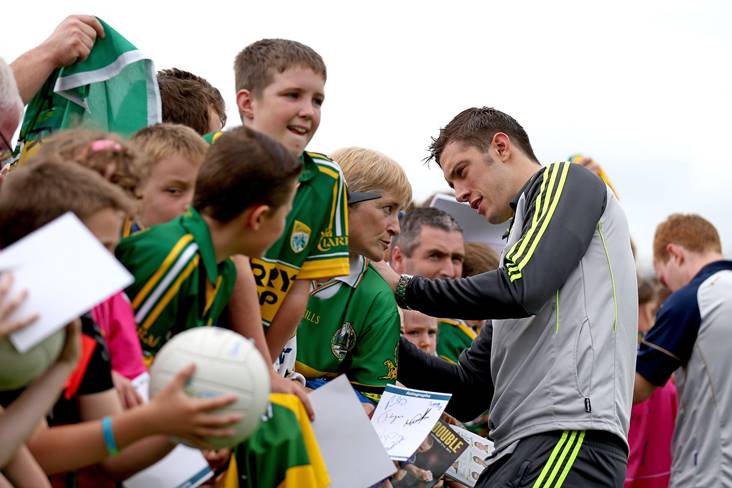 Kerry's David Moran signs autographs for fans after a training session at Fitzgerald Stadium, Killarney. ©INPHO/Ryan Byrne.
The days of Kerry senior footballers training behind closed doors may be a thing of the past.
Since 2013 when Eamonn Fitzmaurice was in charge, Kerry have always trained behind closed doors and although new boss Peter Keane understands why his predecessor took that stance, the former Kingdom minor manager has not ruled out changing it.
Speaking to the media in his first official press briefing, the Kerryman reports that Keane stated that he would be open to seeing supporters attend some of the training sessions at least.
"I can see why it was done and there is no question about it, talking about the lad that was up the tree in Killarney a few years ago," said Keane.
"I can understand why they did it. I don't think it is hard and fast, but I would feel I wouldn't be closing the gates all the time. Does that mean they are open on a Monday and Tuesday? I don't know. But I certainly wouldn't have gates locked all the time. I am open to the idea.
"I don't see a problem, I think it served us well over many years. You look at the town of Killarney where Kerry predominantly train and there is almost a tourism built around that. You often hear about people coming down from Armagh to watch Kerry training and stuff like that. Does that mean you bring them in all the time? Probably not. But there are times when I don't see it being as an issue opening the door."
Be sure to follow the hoganstand.com match tracker on Sunday afternoon for live updates from the club championships.
Most Read Stories