Gavin enjoyed road trip
July 22, 2018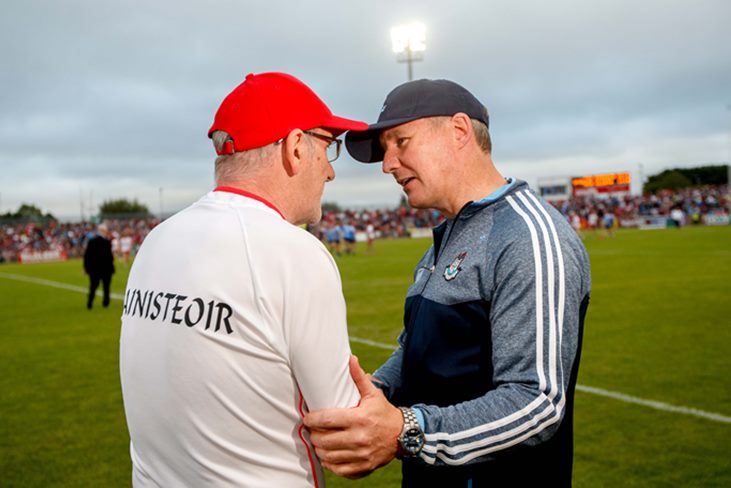 Tyrone manager Mickey Harte and Dublin counterpart Jim Gavin trade handshakes after the game
Jim Gavin felt Dublin's Super 8s clash with Tyrone in Omagh was a great occasion.
The game was something of a novelty for the Dubs who are more used to playing in Croke Park at this time of year and they delivered another winning performance to become the first team to qualify for the All-Ireland SFC semi-finals.
"Tonight was all about coming up to Omagh and getting a result," the Dublin manager said in a post-match interview with Sky Sports.
"We're in a group format so two points means a lot to whoever could get it tonight. We're just glad we got it. Will that performance be good enough going forward? I'm not too sure. But we just enjoyed the experience, fantastic Tyrone crowd, fantastic Dublin crowd, everything on the line, two teams going hard at it, I'm sure it made for really good viewing as well so I'm sure everyone will be happy.
"You just look at the Tyrone team, they've got class players, the scores they've been putting up in games has been phenomenal. That's just the work that Mickey has done with the boys."
He added: "I think every team enjoys going on the road. We certainly do anyway and our supporters do. We were passing them by on the bus up there today and they seemed to be all having a good time which is great for them, and great for the economy as well. It's a great format, there are eight teams getting more games as well.
"But there are 24 other teams on the island whose season is finished so maybe that's something for the off-season."
Most Read Stories