Gianluca Vialli and Harry Redknapp to swap sports in AIB's toughest rivalry
April 18, 2018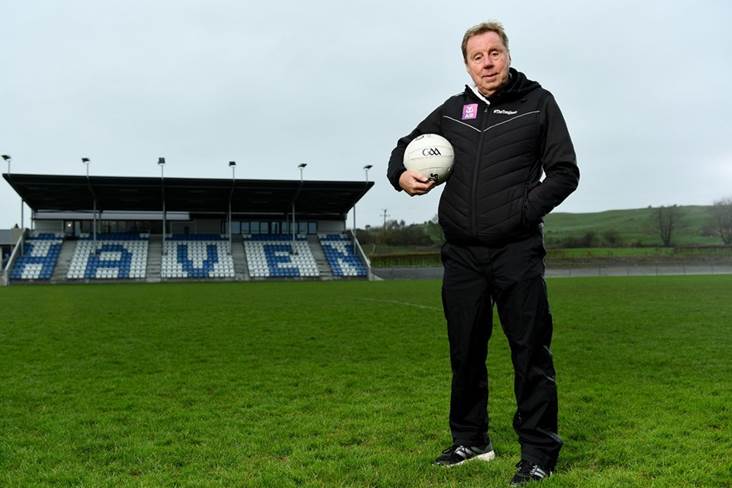 Harry Redknapp turns his hand to GAA management with AIB ©Sportsfile
AIB have brought renowned Premier League Manager Harry Redknapp to West Cork to participate in the creation of a mini-series, The Toughest Rivalry.
The weekly series to be broadcast this summer will also feature former Italian footballer, manager and World Soccer Footballer of the Year in 1995, Gianluca Vialli.
AIB believe that GAA, as #TheToughest sport of all, is built upon rivalries be they local, county, provincial or national. GAA rivalries, despite being as intense as any in world sport, are rivalries of the very best kind. Unlike in other sports, these rivalries bring out the very best in GAA players, fans and their communities.
The Toughest Rivalry will showcase GAA rivalries with Vialli and Redknapp, who have themselves been on opposing sides on 5 occasions, take charge of Erin's Isle GAA in Finglas and Castlehaven GAA in West Cork in a re-match of their infamous 1998 All-Ireland Club Semi Final match that left both teams with unfinished business.
Vialli and Redknapp will be exposed to all aspects of a GAA Club on and off the field of play. They will input into training and preparation whilst being exposed to the important role the GAA Club plays in community life and the intense competition and rivalry generated every time a GAA jersey is worn.
The Toughest Rivalry allows two very different sports worlds to respectfully collide, providing an opportunity for each to learn from one another and grow in knowledge and skill.
Exposing some of professional soccer's biggest talents to GAA sets the stage for a compelling journey into the drive behind what makes successful athletes, the determination that builds powerful teams and the passion and pride created by unwavering community support. 
Speaking about the exciting experience, Gianluca Vialli said: "I am very excited to embark on this journey with AIB. I have learned a lot during my 30 years involved in professional football as a player and manager, but I am delighted to get the opportunity to come to Ireland and learn more about GAA.
"I am interested in seeing what it is that makes this sport so special."
Harry Redknapp - who last week visited the London GAA senior football team at training - said: "I am thrilled to dive into the world of GAA. I took a trip out to London GAA training last week before arriving in Castlehaven to see what it is all about.
"Having been involved in professional football for my whole life, I am really looking forward to working with AIB to get a real understanding of this sport and the central role it plays in Irish life not to mention getting one over on Vialli in the re-match."
For exclusive content and behind the scenes action from Gianluca and Harry's journeys follow AIB GAA on Twitter and Instagram @AIB_GAA and facebook.com/AIBGAA.
Most Read Stories