Here is the list of league games that eir Sport will be broadcasting
January 17, 2018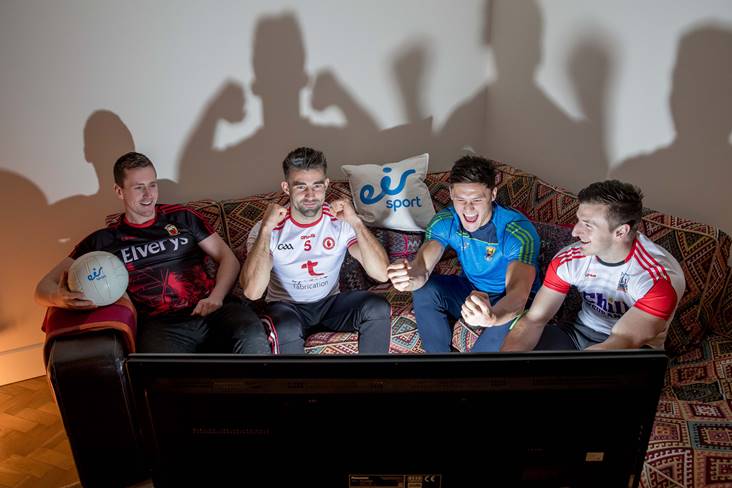 Mayo's Cillian O'Connor, Tyrone's Tiernan McCann, Cork's Patrick Horgan and Wexford's Lee Chin at eir Sport's announcement of details for its live coverage of the forthcoming Allianz Leagues.
©INPHO/Morgan Treacy.
eir Sport today announced details of its coverage of the forthcoming Allianz Leagues, which gets underway on Saturday January 27.
Across seven weekends, eir Sport will broadcast 17 games exclusively live with reigning All-Ireland senior football champions Dublin set to feature four times.
Two double-headers will get the action underway on the first weekend as Dublin hurlers, under the management of All-Ireland winning football boss Pat Gilroy, take on Offaly before the footballers face Leinster rivals at Croke Park. On the same evening, the Cork footballers and hurlers face Tipperary and Kilkenny respectively.
The following weekend defending Allianz League champions Kerry travel to Mayo to face Mayo with beaten All-Ireland finalists Waterford in Thurles to take on Tipperary.
"At eir sport we are determined to offer our viewers the very best content and the 17 live games we will broadcast in our 2018 Allianz Leagues coverage fall into this category," Glen Killane, Managing Director of eir TV and Sport, commented at Wednesday's announcement.     
"Our Allianz Leagues coverage along with our recent successful Club Championship coverage, GAA online clip rights and archive rights means eir sport is building its portfolio of GAA content ensuring GAA lovers don't miss any of the action."
"We are well on the way to becoming the home of Irish sport and our commitment to the Allianz Leagues is pivotal to this." 
eir Sport 2018 Allianz Leagues Fixtures:
Saturday, January 27

5pm - Dublin v Offaly (H), eir sport 1
5pm - Cork v Tipperary (F), eir sport 2
7pm - Dublin v Kildare (F), eir sport 2
7pm - Cork v Kilkenny (H), eir sport 1

Saturday, February 3

7pm - Mayo v Kerry (F), eir sport 1
7pm - Tyrone v Dublin (F)(DEFERRED), eir sport 2
7pm - Tipperary v Waterford (H), eir sport 2

Saturday, February 10

7pm - Dublin v Donegal (F), eir sport 2
7pm - Cavan v Meath (F), eir sport 1

Saturday, February 17

7pm - Tipperary v Wexford (H), eir sport 2
7pm - Limerick v Dublin (H), eir sport 1

Saturday, February 24

7pm - Mayo v Dublin (F), eir sport 2
7pm - Monaghan v Tyrone (F), eir sport 1

Saturday, March 3

7pm - Dublin v Kerry (F), eir sport 2
7pm - Tyrone v Donegal (F), eir sport 1

Saturday, March 17 

7pm - Kerry v Kildare (F), eir sport 2
7pm - Cork v Clare (F), eir sport 1
Most Read Stories