What they said ... the weekend in quotes
August 13, 2018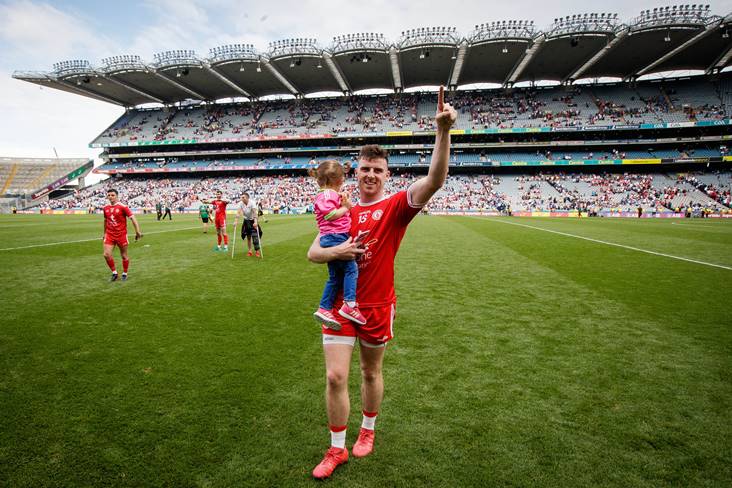 Tyrone's Connor McAliskey celebrates with his niece Grace Colhoun after the All-Ireland SFC semi-final victory over Monaghan at Croke Park.
INPHO/Ryan Byrne.
"It's great to be there but there's a job to be done as well. We have to look forward to the idea that we are there but what a task we have ahead of us."
Mickey Harte must plot the downfall of the mighty Dublin if Tyrone are to land their fourth All-Ireland SFC crown on September 2nd.
"All year, in the games we've played, we've had seven minutes additional time, eight minutes additional time. I thought every sub that went onto the field was 20 or 30 seconds. I know Petey Harte was down for an injury before that. I can't understand. I stand to be corrected if I'm wrong, but I can't understand how there was only three minutes."
Harte's Monaghan counterpart Malachy O'Rourke called referee Anthony Nolan's timekeeping into question.
"It is unbelievable. I came into the set up in 2007 and after winning the Al-Ireland in 2008 thought 'happy days - we are going to have these days year in and year out'. But it's been a long, long time of fighting and a lot of work done."
Colm Cavanagh is preparing for a second All-Ireland SFC final appearance 10 years after his first.
"We prepared well for the game and that probably showed in the performance. Coming into the game we had been so impressed with what Galway have brought. This year they have been really, really impressive and we knew it was going to be a really tight game."
Can Tyrone stop Jim Gavin and Dublin in their pursuit of four All-Ireland SFC success in-a-row?
"They are highly experienced, they probably get stronger as the summer goes on, and they have a huge panel and they know each other inside out so it's up to ourselves and everyone else to close the gap."
The gap is widening between Dublin and the chasing pack, according to Tribe boss Kevin Walsh.
"It's fantastic, it's what we play all year for. We want to come out here, have a bit of fun, play the match but, ultimately, win and get back to a final so we've done that, buzzin'."
Jack McCaffrey delivered a 'man-of-the-match' performance on Saturday evening.
"Every day you go out it's a different game. We'll have a look at what the injuries are like and go at it again. We'll look at the things we did well and things we didn't do so well."
After clearing the Meath hurdle, Galway minor boss Donal O Fatharta is preparing for an All-Ireland MFC clash with five-in-a-row chasing Kerry.
"They're closer to 16 than 18 and there's a tendency to make an odd mistake but I'll tell you one thing, they showed great character, they showed great fitness and they showed football at the end to get out the gate."
Peter Keane's Kingdom side scraped over the gutsy challenge of Monaghan in their semi-final.
Most Read Stories