B FL Div 4: Meath Hill show character
May 16, 2018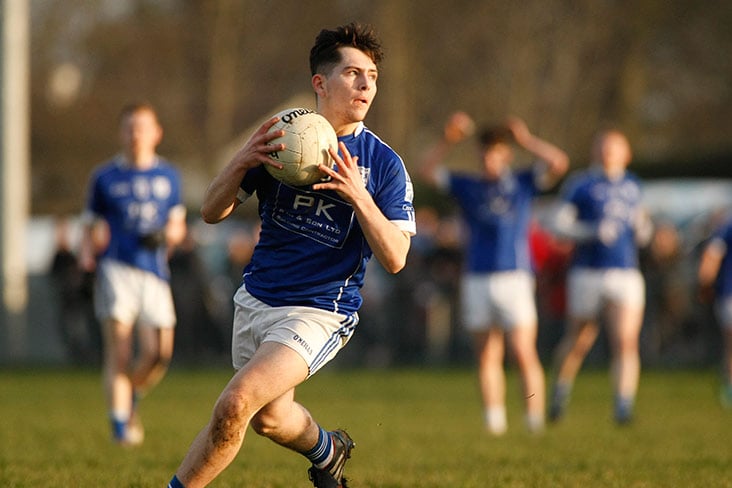 Meath Hill's Jack McMahon
Seneschalstown 1-10 Meath Hill 0-16
Meath Hill's good start in the Div 4B League continued with a deserved win over Seneschalstown on Tuesday night.
Played on the second pitch, Meath Hill started the best playing with a decent breeze and led 0-5 to 0-1 after 15 mins. The home team finished the half the better though, cutting Meath Hill's lead to 2 points 0-7 to 0-5 at half time.  Donnchadh Boyle, Mark Tully, Jack and Derek McMahon were the Meath Hill points scorers.
With 15 minutes gone in the second half, Seneschalstown had turned that two point half time deficit into a two point lead, 1-9 to 0-10. Meath Hill showed character though and scored six of the last seven points to win by three, with scores for McMahon and Tully again, along with Killian McNally and Pierce McGrath.
Sean Rooney and Martin Tully were excellent for the 'Hill along with Hughie O'Sullivan and top scorer Jack McMahon.
Meath Hill: Martin McKenna, Hugh O'Sullivan, Martin Tully, Graham Boylan, Emmet Matthews, Sean Rooney, Cathal Marry, Pierce McGrath (0-1), Tadgh Boyle, Emmet Boyle, Chris Yorke, Mark Tully (0-3), Jack McMahon (0-8), Donnchadh Boyle (0-2), Derek McMahon (0-1). Subs: Thomas McGrath, Killian McNally (0-1), Michael Yorke and Paul Callaghan 
Seneschalstown Report
Seneschalstown 1-10 Meath Hill  0-16
This was an historic occasion as the team was the first adult team to play on the new pitch.
The first score from Seneschalstown GFC was a pointed free from Dylan Doyle.
Meath Hill made the early running and were 5 points to 1 up after 15 minutes in the first half.
Eoin Finegan  made an impact on his introduction in the first half helped out by winning ball and supplying the forwards along with his midfield colleague Gerard McKendry.
The team started to get into the game and there were points from play by Dylan Doyle, Keith Walsh and Edward Meade.
There were a couple of goal chances in this period but good defending prevented the team hitting the back of the net.
At half time the score was Seneschalstown 0-05 to Meath hill  0-07
The team got level with points from Dylan Doyle  in the first few minutes of the second half.
The team went ahead by two points coming up to the 10th minute from Keith Walsh and Dylan Doyle.
Meath Hill then got the next three points to go a point clear.
After a good run by Gerry McKendry he found the back of the net to put the team two points up with 15 minutes gone in the second half.
There was a point from play by Dylan Doyle that finished scoring for the team.
In the remaining 15 minutes of the second half Meath Hill reeled off 6 points to go three points clear.
It was great to see Jonathon Gilsenan back on the pitch after his long layoff due to injury.
Seneschalstown: Mark Keating, Shane Gargan, Conor Ruddy, Louie Healy, Richard McKeown, Conor Cowley, Robert Darby, Gerard McKendry 1-0, Steven Dillon, Paul Garry, Edward Meade 0-1, Adam O'Mara, Shane Mulvany,, Dylan Doyle 0-6, Keith Walsh 0-3
Subs: Eoin Finegan for Steven Dillon, Ronan Groome for Adam O'Mara, Mark Gleeson for Gerard McKendry, Jonathon Gilsenan for Shane Mulvany
Most Read Stories