B FL Div 3: Captain Ryan fires Clanns to first win
May 16, 2018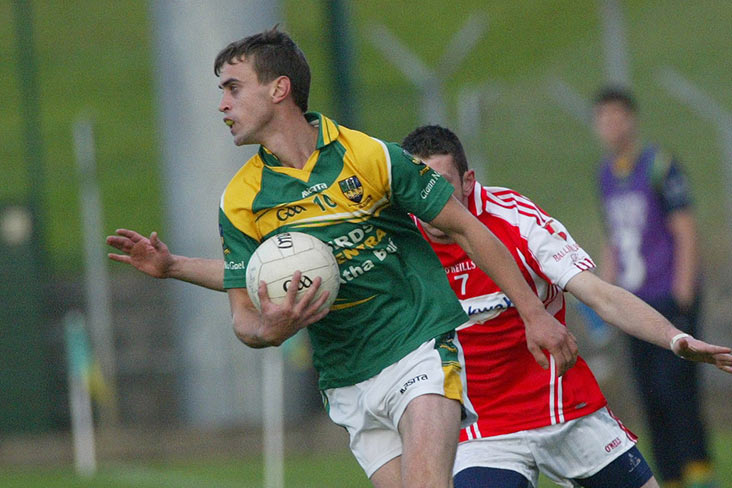 Clann Na nGaels Ciaran Ryan
Donaghamore Ashbourne 1-9 Clann na nGael 2-7
Clann na nGael gained their first win in the B FL Division with this one point win over Donaghmore Ashbourne in Ashbourne.
The winners trailed by three points as the match entered injury time. However they had not thrown in the towel and continued to battle right to the end. When Luke Swaine collected the ball at midfield the goal that Clann na nGael needed looked unlikely. However following a surging run and a couple of well worked one twos with midfield partner Ryan McManus, Swaine blasted to the net to bring the Athboy/Rathcairn lads level. At this stage a draw looked likely but the Clann na nGael captain Ciaran Ryan had other ideas and from his corner back berth fired over the winning point.
Donaghamore/Ashbourne had a great start when straight from the throw they were awarded a penalty which they converted.They enjoyed the better of the first half but with Graham Geraghty having his first outing of the year scoring two points and points from Gary Connell, Luke Swaine and Adrian Doyle the half time score was Donaghamore /Ashbourne 1-4 Clann na nGael  0-5.
Clann na nGael trailed for all of the second half but a goal and a point from Jamie Goggins kept them in touch until they managed to grind out the win with a dramatic finish.
Peter Garry and Thomas Whelehan in the backs and midfielder Ryan McManus worked hard for the winners as Clann na nGael  registered their first B League win of the year.
Donaghmore Ashbourne Report
Donaghmore Ashbourne 1-9 Clann na Gael 2-7
Donaghmore Ashbourne lost out by the minimum in this division 3 B League game played in Ashbourne. The Athboy men came from 3 points down with time almost up to snatch a goal and then turnover possession and score the winning point in added time.
Don Ash started well and were awarded a penalty in the first minute which was despatched by Conor McGovern. Both sides trades scores with the Ashbourne lads going in at the break 1-04 to 0-5 ahead. Clann na Gael scored an early goal to bring themselves back into it. Both sides were guilty of misplaced attempts on goal but Don Ash will rue the chances they had to stretch their one point lead between the 37th an 58th minutes which was barren of scores. Then points from Lorcan Nolan and Kevin McInerney looked to set the Moore's on their way but Clann na Gael worked hard for and got the winning scores.
Donaghmore Ashbourne: Joe Magee, Aaron McLoughlin, Niall Moran, Chris Twomey, Anthony Lynn, Joey Long, Dylan Cassidy, Patrick Murtagh, James Flavin, Ciaran O Sullivan (0-1), Conor McGovern (1-02), Stephen Fenton, Lorcan Nolan (0-4), Cian Field(0-1), Donagh O'Donnell. SUBS: Stephen Breslin, Conor Heffernan, Kevin Mc Inerney (0-1)
Most Read Stories