FL Div 2: Castletown go down at windy Dunganny
February 13, 2018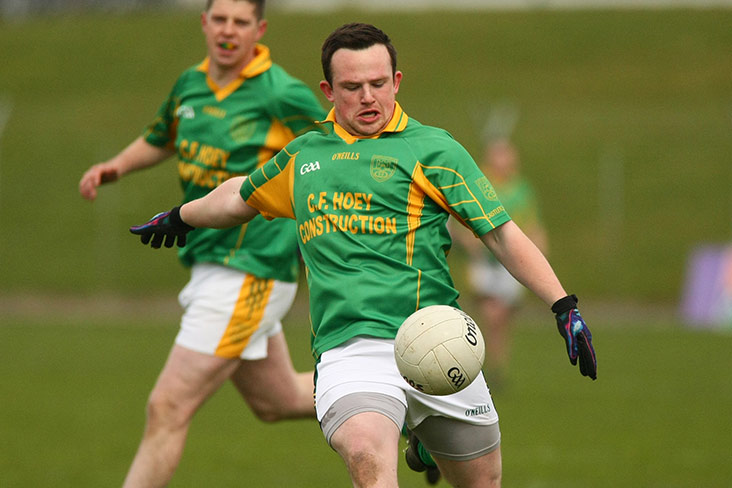 Castletown's Kevin Ross
Castletown 2-06 Seneschalstown 2-11
Castletown played Seneschalstown in a windy Dunganny on Monday evening in round 3 of A league.
Seneschalstown played with the wind in the first half and definitely used it to they're advantage as they scored 2-08 in that period with Brian Sheridan kicking five frees. Kevin Ross was Castletowns only first half scorer with 1-01. This left the score at half time 2-08 to 1-01.
Seneschalstown opened the scoring straight away in the second half with a point from play. Castletown then took over proceedings and scored 1-03 with reply. Seneschalstown scored a pointed free and Darren Finney scored the next two scores one from play and one from a free to leave four points between the teams with four minutes to go. Seneschalstown scored the final point of the game from play to leave the full time score Castletown 2-06 Seneschalstown 2-11.
Castletown: Jonathan Ginnitty, Stephen Duffy, Gerard Farrelly, Evan Hoey, Jamie McMahon, Francis Hoey, Shane Hoey, Damien Ginnitty (1-0), William Bellew, Kevin Ross (1-04 (3f)),Wayne Donegan, Paul Cribbin, Mark Kelly, Darren Finney (0-02 (1f)), Declan Cribbin.
Subs: Tommy Smith from Mark Kelly (Halftime), Kenny Smith for William Bellew (37 minutes), Noel Smyth for Paul Cribbin (41 minutes)
Most Read Stories