Burke hoping St Thomas can repeat march to All-Ireland glory
November 20, 2018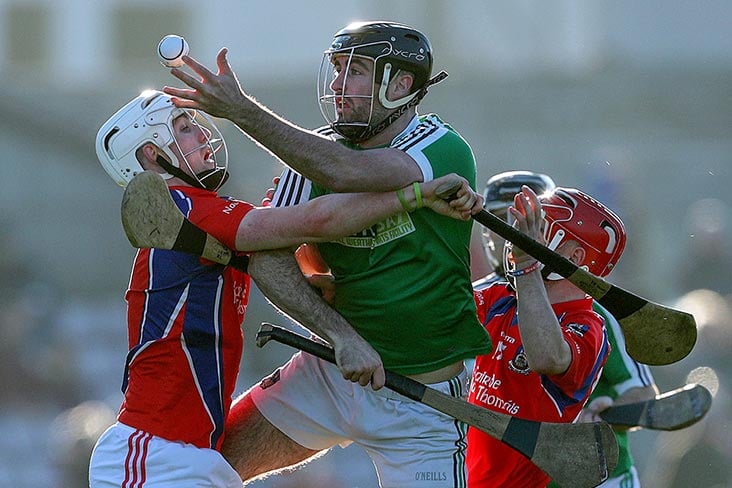 Liam Mellows' Cathal Reilly and Eanna Burke of St. Thomas during the Galway SHC final at Pearse Stadium
by Daragh Small
St Thomas' midfielder Eanna Burke believes the Galway champions are capable of going one step further and returning to Croke Park on St Patrick's Day.
The 2013 All-Ireland club champions were comfortable 2-13 to 0-10 winners over holders Liam Mellows on Sunday in Salthill when they lifted their third county title.
St Thomas' clash with Antrim's Cushendall in the All-Ireland semi-final next time out and the 23-year-old county panellist, younger brother of Galway captain David Burke, says confidence is high.
"We were favourites for Galway from the start of the year. It didn't affect us really it suited us more than anything. We have been knocking on the door a while. We had two in the last few years but we put it right to get a third one," said Burke.
"We will take a few weeks off, you have to to focus the mind again. Cushendall are going to be a massive challenge. Obviously we will enjoy this. When we won a couple of years ago you think it's going to happen every year. But we will savour this one.
"You have to look after yourself over the Christmas, we will enjoy a week or two but we will back in the gym again. You are always trying to put your hand up when you play for the club but we will worry about St Thomas' first."
A goal from Galway player Conor Cooney was instrumental in Sunday's win for one of the smallest clubs in the county and now they want to push on.
"I have been there a few years with Galway. Just when we came back this year after losing an All-Ireland these were a massive few months to step up the pecking order," said Burke.
"We had four on the Galway team this year but you see the likes of Fintan and Darragh Burke they are outstanding club players and they have been doing it for us consistently.
"Maybe it suited us this year that we didn't have many involved. The bulk were club training at home. It's phenomenal for such a small pick.
"We all know what we have to do, if you play well with your club you will get picked for your county, simple as. Every club player in the county knows that. Micheal Donoghue picks on form."
Most Read Stories