O'Byrne Cup round-up: Offaly fight back to draw with Dubs
January 03, 2018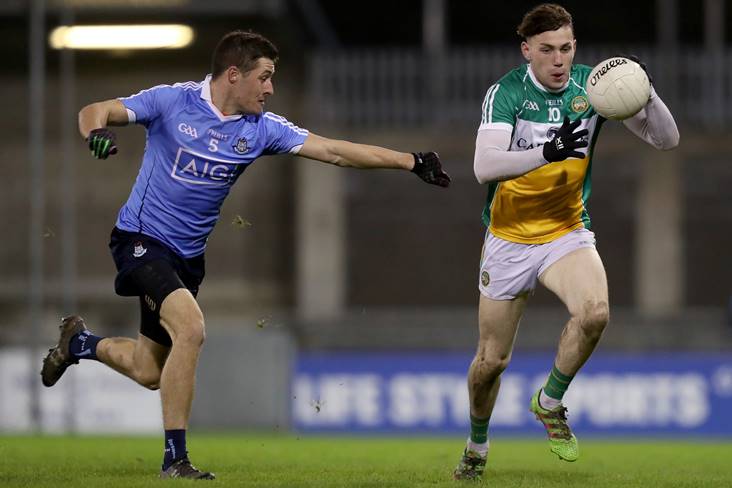 Dublin's David Devereux with Jordan Hayes of Offaly.
©INPHO/Oisin Keniry.
Offaly came from behind to draw with Dublin, while Louth and Meath won on the road.
Colm Basquel netted for the holders in the fifth minute and the Faithful County were five points adrift at the break, 1-8 to 0-6, but they produced a superb second-half display to earn a deserved 0-16 to 1-13 draw at Parnell Park.
Teenager Cian Johnson registered six times for the Faithful County, who finished strongest and will feel they should have taken both points.
Louth's Tadhg McEnaney in action for his club Kilkerley.
At Hawkfield, a brace of brilliant first-half goals from Tadhg McEnaney saw Louth fly out of the blocks against Kildare, storming into a 2-3 to 0-1 lead. Pete McGrath's charges never looked back and roared to an impressive 2-11 to 0-9 victory.
It wasn't nearly as exciting at Dr Cullen Park, where late points from Donal Lenihan and Ben Brennan saw Meath over the line against Carlow in a drab encounter, 0-9 to 0-7.
Dublin - A Bunyan; R McGowan, G Hannigan, S McMahon; D Devereux, B Howard, G Seaver (0-1); E O Conghaile, A Elliott; G O'Reilly, S Carthy (0-3, 1f), K Doherty (0-1); C Basquel (1-6, 0-3f), K O'Gara (0-1), C Sallier. Subs: C Carthy (0-1) for K O'Gara, N Walsh for K Doherty, R Deegan for A Elliott, K Callaghan for C Sallier, S Ryan for E O Conghaile, E O'Brien for B Howard, C Doyle for S Carthy.
Offaly - A Mulhall; D Brady, J Lalor, S Pender; D Dempsey, C Donohue (0-1), D Hogan (0-1); C Dunne, S Nally; M Brazil, A Sullivan (0-1), J Hayes (0-1); B Allen (0-1), C Johnston (0-6), S Doyle. Subs: P McConway for J Lalor, N Dunne (0-4, 3f) for M Brazil, J O'Connor (0-1) for S Doyle, C McNamee for C Dunne, B O'Dea for D Dempsey (BC).
Referee - B Cawley.
**
Louth - C Lynch; A Smith, E Carolan, J Craven; E Keenan, B Duffy (0-1), D Marks; R Grufferty, T Durnin (0-2, 1f); J Butler (0-2f), A McDonnell (0-2), G McSorley (0-1); T McEnaney (2-1), B Flanagan, N Conlon (0-1). Subs: J McEneaney, C Downey, P Reilly, R Nally, F Donohue, W Woods, R Holcroft (0-1).
Kildare - A O'Neill; E Powderly, P Kelly, M Kelly; D Courtney, J Byrne (0-1), K Flynn (0-1); L Flynn (0-1), K Feely; M Sherry, D Slattery, F Conway; C Healy (0-1), B McLoughlin (0-2f), C McNally. Subs: E Doyle, K Cribbin, N Flynn (0-3), C O'Donoghue, P Connell, T Moolick, F Dowling.
Referee - F Smyth.
**
Meath - A Colgan; D O'Neill, C McGill, S Gallagher; S Lavin, B Power, S McEntee; B Menton, A Flanagan; J McEntee, B Brennan (0-4, 1f), G Reilly (0-1); T O'Reilly (0-1), D Lenihan (0-3), R Garry. Subs: M Burke for S Gallagher, B Conlon for T O'Reilly, S Tobin for R Garry, M McCabe for A Flanagan, S Glynn for D O'Neill.
Carlow - C Kearney; L Roberts, S Redmond, C Lawlor; J Morrissey, D St Ledger (0-1'45), C Moran; D Moran, S Murphy; L Sheppard, D Foley (0-1), D O'Brien (0-2, 1f); C Crowley, D Walshe (0-3, 2f), J Murphy. Subs: K Nolan for J Murphy, R Molloy for C Kearney, J Clarke for S Murphy, B Kavanagh for J Morrissey, B Cawley for L Roberts, G Kelly for C Lawlor, J Murphy for D St Ledger (BC), L Walker for C Crowley.
Referee - S Mulhare.
Most Read Stories