Rathnew head for the DRA
June 20, 2018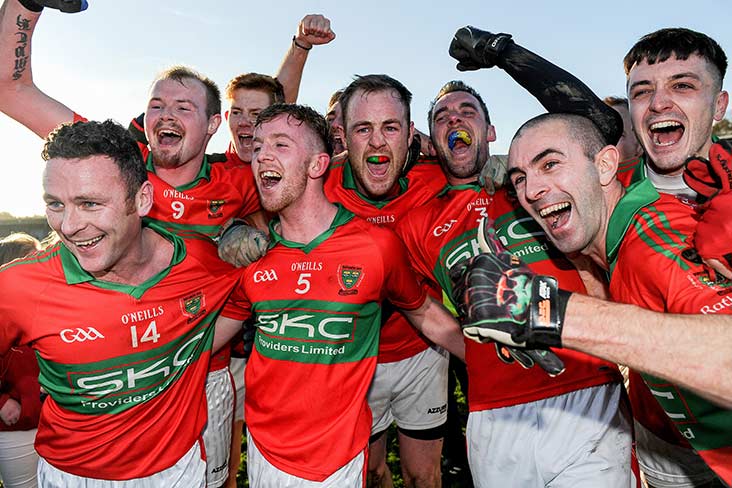 Rathnew players celebrate after beating St. Vincents in the Leinster club SFC quarter final at Aughrim.
Wicklow GAA club Rathnew are refusing to accept the decision by the Wicklow CCC to award a walk-over against them and St Patrick's for failing to fulfil a fixture earlier in the year.
Rathnew's case has already been heard by Leinster Council who turned down the appeal, but the Wicklow club are not done yet and are heading for the DRA.
As it stands, if the points deduction stands, Hollywood will be crowned the Division One champions, but Rathnew feel that they are being hard done by.
Both clubs had requested that the league fixture in question be rescheduled, but the Wicklow CCC refused to do so. In the end, neither team fielded and they game was deemed a walkover by both teams.
With so many county players in each squad, it was deemed infeasible to play the game prior to the Offaly game in the Leinster SFC.
Now, the matter is heading for the DRA and Rathnew's Peter Dignam is confident that they will win the case.
"We took our appeal to Leinster, but we cited the wrong rule, Leinster suggested that we take it to the DRA so I requested a meeting with the county board because we don't want that. If we go to the DRA, we are going to win, I got a phone call from the CCC saying they weren't changing their minds," Dignam told the Wicklow People.
"I'm flabbergasted by the situation. Now what you're doing is driving a splinter between two clubs. We thought we were doing the right thing by wanting to allow the players (county) to prepare for their Leinster championship game with Offaly. What battle are they trying to win here?"
Most Read Stories