What they said … the weekend in quotes
March 05, 2018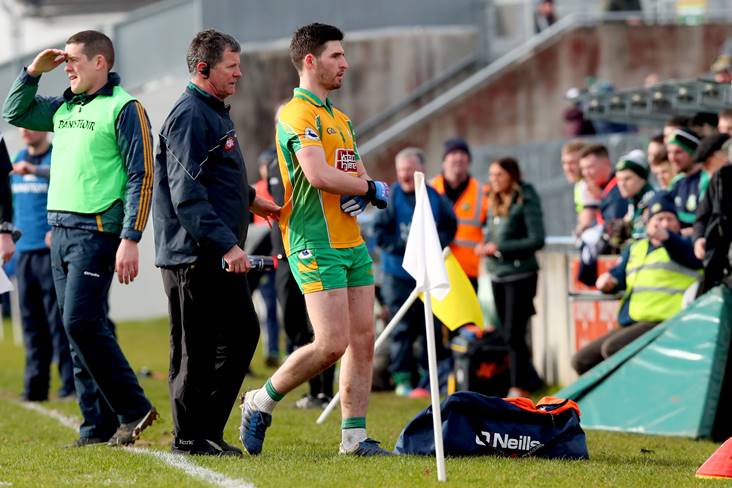 Corofin's Martin Farragher leaves the field after receiving a red card during his side's All-Ireland club SFC semi-final clash against Moorefield at O'Connor Park, Tullamore.
©INPHO/James Crombie.
"The adrenaline isn't there now. To go back and manage on a full-time basis, the players would catch you out because they know you're not driven. Was it good while it lasted? It was."
Joe Kernan has called time on his illustrious gaelic football management career.
"We will follow the process and hope that it will be successful and that Martin will be available to play in the final."
Corofin chairman Michael Ryder confirmed that they are appealing the red card picked up by full-forward Martin Farragher in their All-Ireland Club SFC semi-final win over Moorefield.
"It's hard but at the same time there was something in the back of my head that said now is the time. When I weighed all that up it was an awful lot of commitment to make to get the body right just to keep going again. And the way the game is gone, I suppose the other side of it is I wasn't enjoying it."
Kerry's Bryan Sheehan talks inter-county retirement.
"It just wasn't ideal. I was after coming out of treatment. I was after penning a book on my gambling addiction. Almost immediately after that, we were sponsored by a bookmakers. Again it's ironic that it affects my club. Every time I went out with that badge on my chest, it was a very awkward situation for me to put it mildly. It was a real moral question for me - do I pull this jersey on or do I walk away from football?"
Oisin McConville admitted Crossmaglen Rangers' sponsorship deal with a betting firm left him with a moral dilemma.
"We are still learning what is out there, so we have to get to a point where we are adaptable to play the different kind of opposition we might face. And whether people from outside see it as a counter-attacking or an ugly style or whatever - people will see what they want to see. We just have to get the best out of our players."
Kevin Walsh is not losing any sleep over what pundits say about Galway's style of play.
"My philosophy is that every child in the country should get an opportunity to sample hurling at some stage of their life. If they like it they like it. If they don't they at least get a crack at it."
The GAA's new head of Hurling Development, Jimmy O'Dwyer has big ambitions for the small ball code.
"We want them coming back and being an addition for us. If you are forcing men back who are just after a long season like that - in fact, they are not after one long season, they are after two long seasons - and two years in a row of that, mentally and physically, there is going to be a toll on them."
The Slaughtneil contingent won't be rushed back into inter-county duty by Oak Leaf boss Damien McErlain.
"We are still in contention for promotion after four games and we can pull it off, without a shadow of a doubt. There's a bedding-in period and that's well and truly over. The lads have embraced what we are trying to do and it's working for us."
Colin Kelly remains confident about Westmeath's promotion prospects.
"There was a ridiculous decision at the end of the match when Gordon Kelly was cleaning water out of a water bottle and one of the umpires alleged that he hit him with the water. Gordon got three months for that, which is absolute insanity."
Clare footballer Gordon Kelly has been hit with a three month ban and Colm Collins is not happy about it. 
"I genuinely think a lot of people are turning away from football. It doesn't have the battles and the confrontation that you had before. People will tell me, 'You're only jealous that you're not still playing'. That's not it at all. Football wasn't meant to be about 14 players behind the ball, short kick-outs and endless hand-passing."
Cork football legend Larry Tompkins is not a fan of the modern game.
Most Read Stories