'Snow joke as fixtures chaos looms
February 27, 2018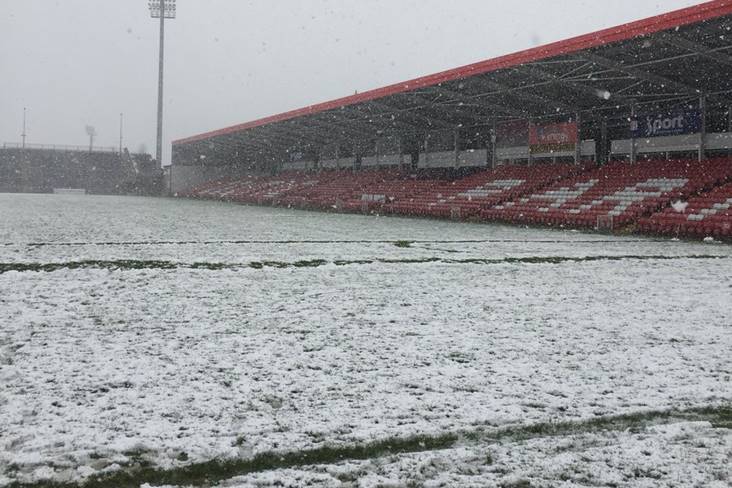 Celtic Park, Derry covered in snow.
This weekend's national league programme looks set to be decimated by Storm Emma.
A full round of fixtures in both the national football and hurling leagues is scheduled for Saturday and Sunday, but it seems increasingly unlikely that any games will be able to proceed as the Arctic weather front grips the nation, with the coldest weather in three decades on the way. With transport chaos, widespread school closures and disruptions to supermarket supplies anticipated, it looks unlikely that the sports calendar will be unaffected.
The situation in hurling is particularly delicate as - with promotion, relegation and quarter-final places still very much up in the air in most divisions - the fifth round of matches in each section need to take place at the same time. Thus, if one match is called off, will all the other games in that division also have to be axed?
'The Beast From the East' has already roared into the UK and is set to bring plunging temperatures and dynamic snow to Ireland from this evening onwards and it is possible that a Status Red weather warning will be issued later in the week, with the worst of the weather forecast for Thursday and Friday.
With the possibility of heavy deposits of snow and no thaw, the GAA may well be forced to call off all of this weekend's league fixtures as pitches could be unplayable and roads treacherous - the perfect storm for widespread cancellations.
Disruptions will pose a major problem in the HL as there is no obvious free weekend available between now and the scheduled final on March 24th, while April has of course been designated to clubs. The GAA are "currently monitoring the situation" and - if there is a blanket wipe-out of fixtures - one option might be to move the hurling fixtures back one week and play the final the same weekend as the football league finals (March 31 / April 1).
Most Read Stories