"Down would be in the same boat as us"
June 14, 2018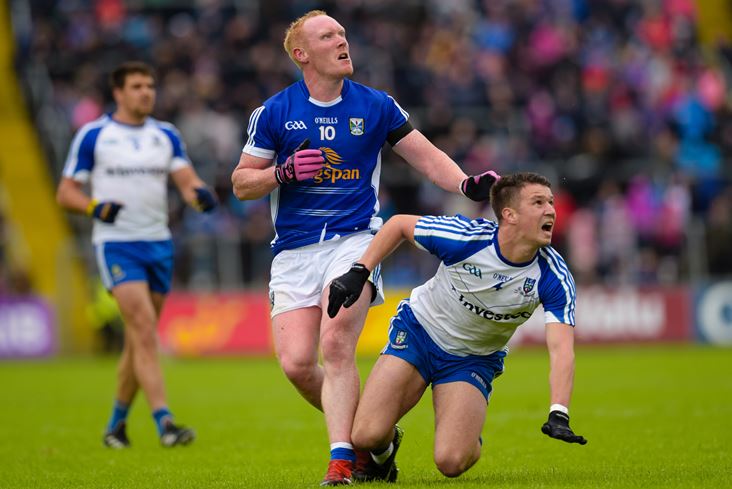 Cian Mackey of Cavan scores a point despite the tackle of Monaghan's Ryan Wylie
Cavan attacker Cian Mackey doesn't expect there to be much between the Breffni men and Down when the two sides cross swords in Enniskillen next Saturday week.
Mattie McGleenan's side advanced through to Round 2 of the qualifiers by hammering Wicklow in Aughrim next weekend and drew the Mourne men - whom lost out to Donegal in the Ulster SFC semi-finals - on Monday morning.
When the two teams met back in March it was the Blues that emerged three-point in a game which Mackey acknowledged could have went either way on the night.
"When I first heard we'd drawn Down, I thought a very tricky tie," he told The Irish News. "Down would be in the same boat as us, pushing for Division 1 pretty much every year.
"We beat them by a couple of points in Breffni Park in the league but if they scored what they should have scored they could easily have beaten us by a few."
On last weekend's victory over Wicklow, the Castlerahan playmaker added: "Last Saturday evening we came out of the blocks fairly well and got a bit of a lead which made it more difficult for them to hold us.
"It was good to get the win and we racked up a good score. But we always want to improve, so we'll be looking to kick on and maybe play a bit better next weekend."
Most Read Stories